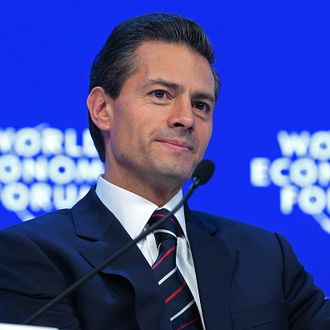 Mexican president Enrique Peña Nieto is not a fan of the Donald.
Photo: Jason Alden/© 2016 Bloomberg Finance LP
Between the KKK controversy, the simple, direct rhetoric, and the eerie photos of supporters with their right hands raised in support, it's becoming more and more popular to compare Donald Trump to a certain polarizing historical figure with a penchant for extremist views. Earlier this week, comedian Louis C.K. sent out an email comparing Trump to Hitler ("The guy is Hitler. And by that I mean that we are being Germany in the '30s. Do you think they saw the shit coming?") and begging fans not to vote for Trump. On Monday, Mexican president Enrique Peña Nieto issued a similar warning in an interview with Mexican newspaper Excélsior, making the strongest anti-Trump comments of any foreign leader so far.
Peña Nieto, who until now has refrained from criticizing Trump directly, said the Trump campaign offers "very easy, simple solutions to problems that are obviously not that easy to solve." He went on: "There have been episodes in human history, unfortunately, where expressions of this strident rhetoric have only led to very ominous situations. That's how Mussolini got in, that's how Hitler got in — they took advantage of a situation, a problem perhaps, which humanity was going through at the time. We don't want that happening anywhere in the world."
The president also addressed Trump's precious border wall, which Trump insists the Mexican government will finance using its trade deficit. Peña Nieto said "there is no scenario" under which he would consider paying for the wall. "I regret that I can't agree with this American politician's position," he said, adding that in an ideal world Mexico would work with the United States to solve problems and foster an atmosphere of mutual respect. 
His statements echo those of Mexican finance minister Luis Videgaray Caso, who called the wall a "terrible idea" with "no foundation in reality." Between the Mexican officials who hate him and the large number of Hispanic-American voters who also hate him, Trump is right — he really brings people together.