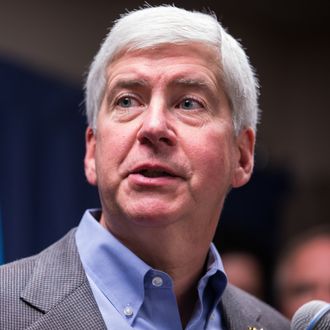 Snyder's Twitter fingers were busy tonight.
Photo: Brett Carlsen/Getty Images
Michigan governor Rick Snyder did not appreciate the calls for his resignation during Sunday night's Democratic debate in Flint, Michigan. Both Hillary Clinton and Bernie Sanders discussed Flint's ongoing water crisis, and Clinton explicitly said Snyder should be ousted. "I agree the governor should resign or be recalled, and we should support the efforts of citizens attempting to achieve that," she said. (Sanders has been calling for Snyder to resign since January.)
Snyder, who was apparently watching the debate, took issue with the way his office was portrayed and fired back at both candidates on Twitter. "In a few days, political candidates will be leaving Flint and Michigan," he tweeted. "They will not be staying to help solve the crisis, but I am committed to the people of Flint."
Clinton also said she supports efforts by Michigan legislators "to get the money from the federal government in order to begin the work that must occur to fix the infrastructure," and added that "the state should also be sending money immediately to help this city," to which Snyder responded that the water crisis was "never about money." (In fact, Dennis Muchmore, Snyder's chief of staff, said cost was an issue in the city's failure to switch water suppliers in Flint, despite repeated warnings the water was contaminated. "The assessment was you couldn't do it because it was a cost that should have borne by the system," he told the Detroit News.)
Snyder went on to discuss the money he's pledged to get Flint back on its feet, which includes $30 million to pay residents' water bills for the past two years. 
Snyder is set to testify before a congressional committee investigating the water crisis on March 17. It's unclear whether he and other officials will face manslaughter charges, but the Detroit Free Press reports he's hired two outside attorneys to serve as "investigatory counsel." Both lawyers were hired on state-funded contracts for $249,000 — just below the $250,000 threshold for contracts that must be approved by the State Administrative Board.