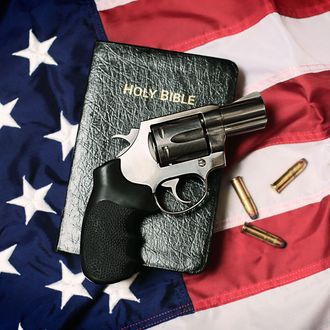 Guns have become an object of worship in parts of the American heartland.
Photo: Casenbina/Getty Images
Of all the cultural divides in these allegedly "United" States, probably none is more stark than the chasm in attitudes toward possession of lethal weaponry. There used to be a general consensus that deadly force should, generally speaking, be monopolized by police officers; possession of, say, a handgun in one's home, was an exception in recognition of exceptional circumstances. Shooting irons for hunting were another thing, but those were reserved for occasions when one was, you know, out in the woods hunting.
That may still be the prevailing attitude on the coasts, but the romance with heavily arming citizens to carry out their very own forms of justice is really running wild in parts of the heartland, where conservative lawmakers are outraged at the idea that there is anywhere on Earth that privately owned guns don't belong, to the point of considering that the most important of all liberties. 
The Great State of Mississippi is offering an illustration of this principle as we speak with the march toward enactment of legislation to recognize a right of concealed-carry in churches. And the Republican salons, who are promoting the cause of honoring the Prince of Peace by insisting on the right to shoot and kill people right there in His sanctuary, are preemptively concerned that the godless socialists in Washington might interfere. So once again, they've gone back to that fine antebellum doctrine of nullification to deny the power of the Feds — or at least the executive branch — to regulate firearms at all.  The Jackson Clarion-Ledger has the story:
The bill would allow churches to create security programs and designate and train members to carry concealed weapons. It would provide criminal and legal protections to those serving as church security.

The bill also would allow concealed carry in a holster without a permit in Mississippi, expanding a measure passed last year that allowed concealed carry without a permit in a purse, satchel or briefcase, and another recent law that allows open carry in public.

The bill also seeks to prohibit Mississippi officials from enforcing any federal agency regulations or executive orders that would violate the state constitution — an attempt to federal gun restrictions not passed by Congress.

Senators argued whether this last provision would violate the Supremacy Clause of the U.S. Constitution.

"Where did you go to law school?" Sen. Hob Bryan, D-Amory, asked Tindell during the debate. "Are they telling people there that the Mississippi constitution trumps federal law? … You may have been wrong about things before, but you've never been more wrong than this. This is like arguing whether the freezing point of water is 32 degrees Fahrenheit. This is embarrassing, hopeless."
It's also entirely predictable that people who think the absence of guns is more dangerous than their omnipresence would extend the principle everywhere, even to bars and, yeah, churches. Beyond that, we see the ongoing radicalization of Second Amendment ultras who think gun rights are not just part of the Constitution but fundamental to it and superior to any other provision — in effect, an object of worship. At some point, the Second Amendment could run afoul of the Bible's Second Commandment against raising up idols.