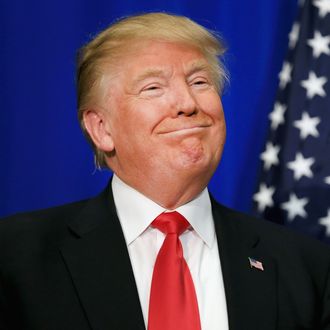 Photo: Tom Pennington/Getty Images
Donald Trump won the Mississippi and Michigan primaries on Tuesday night, as well as the Hawaii caucus, and celebrated with an incoherent victory press conference. However, he didn't completely sweep the night's primaries; Cruz took Idaho and finished second in all of the other races.
In Mississippi, Trump wasn't declared the winner instantaneously, like Hillary Clinton, but he was clearly in the lead when voting ended at 8 p.m. With 99 percent of precincts reporting, he had 47 percent of the vote, followed by Cruz at 36 percent, Kasich at 9 percent, and Rubio at 5 percent.
Trump's Michigan win was decisive as well. With 99 percent reporting, Trump had 37 percent, Cruz had 25 percent, Kasich had 24 percent, and Rubio had 9 percent.
In Hawaii, Trump finished with 42 percent, followed by Cruz at 33 percent, Rubio at 13 percent, and Kasich at 11 percent.
It's a different story in Idaho. With 99 percent reporting, Cruz had 45 percent, followed by Trump at 28 percent, Rubio at 16 percent, and Kasich at 7 percent.
Trump took the stage shortly after his win in Michigan. He began his press conference by noting that he won despite the "$38 million dollars worth of horrible lies" about him, which his rivals aired during the last week. After plugging his golf club, Trump said he's excited to see high turnout on the Republican side, including many people who have never voted before. "I want to thank the special interests and the lobbyists … to raise that much money that quickly is a very good feat."
Then he gave Paul Ryan a shout out, saying that he "could not have been nicer" and "was very encouraging" when they spoke on the phone recently. As for Ted Cruz, he's "interesting because he's always saying 'I'm the only one who can beat Donald Trump' … but he never beats me! Meaning he rarely beats me. When we get to certain states, he's going to have a hard time." Finally he praised Chris Christie, calling him a "great prosecutor" and thanking him for "what he did to Marco."
Next, he engaged in some rambling Mitt Romney–bashing, defending various Trump products criticized by the former GOP presidential nominee. "So you have the water, you have the steaks, you have the airline that I sold, you have the wines and all of that, and Trump University, we're going to start it up as soon as I win the lawsuits. Does that make sense?"
The rest of his stream-of-consciousness remarks were hard to follow, but Twitter tried to keep up:
After about 45 minutes, Trump, and his steaks, finally wrapped things up:
Trump, Cruz, and Kasich had high hopes heading into Tuesday's primaries and caucuses, but Rubio was just trying to avoid humiliation. That plan didn't work out very well. His biggest achievement was a third-place finish in Idaho, and at one point it looked like Ben Carson, who is no longer running, would beat him in Mississippi.
This post will be updated as more information becomes available.