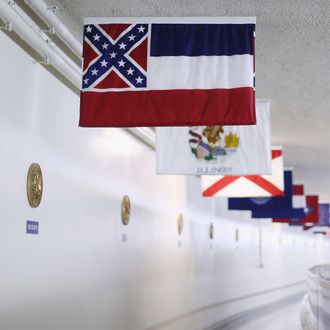 The state also sports this charming flag.
Photo: Chip Somodevilla/2015 Getty Images
Mississippi, where public officials are occasionally elected by drawing straws, is apparently home to another charming political quirk: When state officials retire, they can take all the leftover money in their campaign-fundraising accounts with them. A recent review by the Associated Press found that, of the 99 state officials who retired in the past few years, as many as 25 pocketed more than $1,000 in the process, and at least four took more than $50,000. Mississippi is one of five states — along with North Dakota, South Dakota, Wyoming, and Virginia — where these sorts of withdrawals are legal, as long as state and federal income taxes have been paid on the sum.
Amy Tuck, a former Mississippi lieutenant governor who shut down her campaign committee in 2013, pocketed $158,342 when she left office. George Dale, a former insurance commissioner, took $105,264; Johnny Stringer, a former House Appropriations Committee chairman, took $145,000; Tommy Moffatt, a former state senator, took $50,407; and Erik Clark, former House member and secretary of State, pocketed $55,181. "If I had just wanted to pocket a bunch of money, I could have taken it all," Clark told the AP. "That's how much I felt morally comfortable with."
But Mississippi's policy draws the whole mechanism of campaign donations into question. Although the state's ethics laws reportedly say public servants "can't use their offices to seek monetary benefits except for their legal salary," lawmakers have chosen to interpret it as excluding campaign accounts — meaning a campaign donation essentially becomes a personal donation. "You are personally gaining from your political office, and that is why they're giving to you," Larry Noble, general counsel of the Campaign Legal Center, told the AP. "Your office is a public office and you should not benefit from it. That's the fear."
Some do use the money for personal expenses — Dale, for example, said he took it to support his autistic granddaughter. Others, like current Mississippi governor Phil Bryant, say they plan to spend the leftovers on other political candidates and nonprofits. Some take it to counteract the expense of running for office in the first place. Whatever the reason, running for office in Mississippi, winning, and pocketing thousands of donor dollars sounds like the world's best retirement plan.