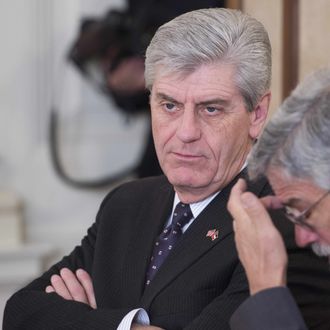 It's up to Mississippi governor Phil Bryant to pass or veto the bill.
Photo: JIM WATSON
Just a week after an anti-LGBT law passed in North Carolina, and only two days after Georgia's governor vetoed a similar religious-exemption bill, Mississippi's Senate has passed what critics call the most sweeping anti-LGBT legislation in the United States. On Wednesday, the Senate voted 31-17 to pass House Bill 1523, which protects people, businesses, and religious organizations that refuse to service LGBT people if doing so violates their "sincerely held" religious beliefs.
Such "sincerely held" beliefs include the conviction that: 
(a) Marriage is or should be recognized as the union of one man and one woman;
(b) Sexual relations are properly reserved to such a marriage; and
(c) Male (man) or female (woman) refer to an individual's immutable biological sex as objectively determined by anatomy and genetics at time of birth.
The bill protects so many acts that it's almost impossible to sum them up. Among them are religious organizations declining to perform a marriage; religious organizations refusing to hire — or firing or disciplining — individuals for "violating" their religious beliefs; religious organizations choosing not to rent or sell property; religious organizations that provide foster care or adoptive services (including state-funded ones) declining service; any person or business choosing not to provide counseling or medical treatment; and any person or business refusing to provide wedding services such as photography, dress-making, or floral arrangement.
In addition, under the bill, any person or businesses can impose "sex-specific standards or policies concerning employee or student dress or grooming," and can police bathroom use as they so choose. State employees who issue marriage licenses would also be able to deny their services without consequence.
Mississippi Republicans say the bill protects those whose religious beliefs might go against the Supreme Court's marriage-equality ruling. "I don't think it's discriminatory," said Senator Jenifer Branning in a speech to her colleagues. "It takes no rights away from anyone. It gives protection to those in the state who cannot in a good conscience provide services for a same-sex marriage." 
But state Democrats argue that it does much more than that — they maintain that it's overly broad and protects religious discrimination in too many settings. "They say it's about same-sex marriage," said Senator John Horhn. "If that's the case, why does it include adoptions? The[n] why does it allow discrimination in medical services? The reason we are so adamantly opposed to it is because we have already been there. We don't need to put another stain on Mississippi." 
The bill passed the House 80-39 in February, but because it was amended slightly in the Senate, it will now return to the house for concurrence before it reaches the desk of Governor Phil Bryant. Bryant hasn't said whether he'll veto the bill or not, but last week he told WLOX he didn't think the bill was discriminatory.