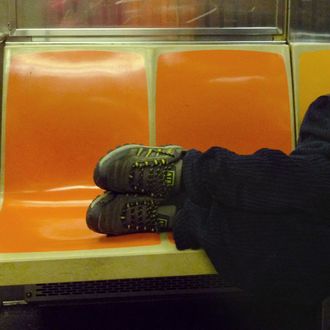 You can get a ticket for doing this — and you're also a jerk — but you won't go to jail.
Photo: Sarah Ackerman/CC/flickr
Good news for low-level lawbreakers in New York: Starting Monday, the NYPD will no longer arrest people for such offenses as drinking in public, taking up two seats on the subway, or public urination unless there's "a demonstrated public safety reason to do so." This comes straight from the Manhattan district attorney's office, which also announced that it won't prosecute those infractions. Anyone who violates such laws will now be issued a summons, which incurs a fine but doesn't result in a criminal record.
According to the DA's office, the new policy is expected to result in the diversion of approximately 10,000 arrests that would have been handled in Manhattan Criminal Court. Under the existing rules, it has been up to the officer to either issue a ticket or arrest an individual who committed certain low-level offenses like riding between subway cars and littering.
Under other scenarios, policy has dictated that the officer had no choice but to arrest the person — for instance, if he or she turns out to be one of the 1.1 million New Yorkers who have open summons warrants for failing to appear in court on a specified return date. Under the new rules, those people will be taken to court to face a judge about both the old summons and the new one but won't be arrested. Only those with full-on warrants for their arrest will be, well, arrested — for the original crime. (They'll also receive a summons for the new infraction.)
"Using summonses instead of arrests for low-level offenses is an intuitive and modern solution that will help make sure resources are focused on our main priority: addressing threats to public safety," said Mayor de Blasio in a statement released Tuesday. "Today's reforms allow our hardworking police officers to concentrate their efforts on the narrow group of individuals driving violent crime in New York City. This plan will also help safely prevent unnecessary jail time for low-level offenses."