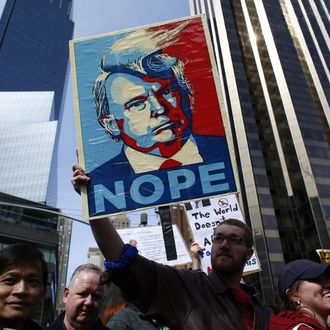 It's hard out there for a Republican voter.
Photo: KENA BETANCUR
This election cycle has plunged the Republican party into an existential crisis. Convinced that Donald Trump's candidacy would falter and fade early on, most Establishment conservatives have looked on in horror as he's risen in the polls and begun to collect delegates with ease. A new poll from the New York Times and CBS News illustrates their predicament — of 362 Republicans surveyed over four days, 60 percent say they're embarrassed by their party's presidential campaign, and 88 percent agree that their party is divided. What's more, 58 percent say that the tone of this year's campaign is more negative than that of campaigns in previous years.
Of those Republicans surveyed, 46 percent say they'd like to see Donald Trump as the nominee, and a full three-quarters say that's what they expect.
"The will of the people has been Donald Trump, and if the party won't support him, they are not supporting the will of the people," Bryan Ottalini, a 59-year-old Trump supporter from Georgia, told the Times in a follow-up interview. "I think it would be a definite deal killer for me as far as being a Republican. I would never vote Republican again." Nearly nine in ten Republicans agreed that a contested convention would be bad for the party.
But voters were unnerved when it came to the recent bout of violence at Trump's rallies across the country. Sixty-four percent of all voters surveyed said they disapproved of how Trump handled the incidents, but they couldn't quite agree on who to blame: 29 percent blamed protesters, 23 percent blamed Trump supporters, and 43 percent blame both equally.
On the whole, Democrats were more likely to see this year's election in a positive light. Of the 388 Democratic voters surveyed, 82 percent have a favorable opinion of their party, and all but a small portion see their party as unified. But they do entertain doubts about Hillary Clinton, their party's front-runner — 40 percent of Democratic voters don't see her as "honest and trustworthy," and she's viewed unfavorably by 52 percent of all voters. What's more, 56 percent of voters said they'd enthusiastically support Sanders if he became the nominee, while only 40 percent said the same for Clinton.
It's rare, but not unprecedented, to have two front-runners who are so disliked. Perhaps both Trump and Clinton should take a lesson from our current president, whose approval ratings are at a three-year high because America evidently doesn't know what it's got 'til it's gone.