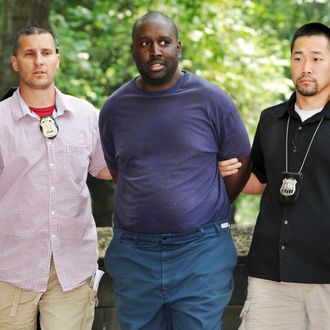 McCollum being arrested in 2008.
Photo: Craig Warga/NY Daily News via Getty Images
Darius McCollum is the biggest fan the MTA has ever had. However, in his misguided expression of his love for transit, McCollum (who has Asperger syndrome) took to hijacking and joyriding subway trains and buses — sometimes dressed as an MTA worker — and has got himself arrested 30 times since 1981. Now McCollum's story is about to become a movie called Train Man, starring Julia Roberts as his defense attorney, Sally Butler, and the MTA wants in on the dough. The New York Post reports that the MTA is meeting on Monday to discuss seizing McCollum's profits from selling his life story.
To accomplish that, the MTA is trying to use New York's revised "Son of Sam law" that prohibits criminals from making money off their own crime-related publicity. Originally enacted in 1977 and invoked 11 times — notably against John Lennon's killer, Mark David Chapman — the original law was struck down by the Supreme Court in 1991 on First Amendment grounds. (The case involved Nicholas Pileggi's superb book Wiseguy, which became the film Goodfellas.) In 2005, New York adopted a revised version of the law that enabled victims to sue criminals who were benefiting from selling their stories. That's how the MTA hopes to take McCollum for what he's worth.
McCollum is currently serving time on Rikers Island, having been arrested in November for stealing a Greyhound bus from the Port Authority Bus Terminal and taking it on a wild ride through Gowanus. It was the latest of many such incidents; he was first arrested in 1981, at 15, when he took off with an E train at 34th Street. Butler, his defense lawyer, has argued that the MTA should use his expertise to their benefit. "What if they acknowledge what skill he has and utilize it?" she asked in November. McCollum appeared in court on Monday, where he rejected a plea deal that would have sent him to jail for ten years. The so-called "train thief" has taken every other plea deal he has been offered and has never yet stood trial. Butler wants her client's case transferred to mental-health court, where he would receive special care as his case is adjudicated. The DA's office has begun to warm to this idea, reports the Associated Press, and a decision is expected on April 11.
Since becoming something of a folk hero, McCollum has been unable to find a job and has, at times, found himself on the brink of homelessness. In September, he wrote in a Facebook post, "By curiosity, I was wondering if there are any people out there who may like trains or are even just train buffs? It's a passion of mine."