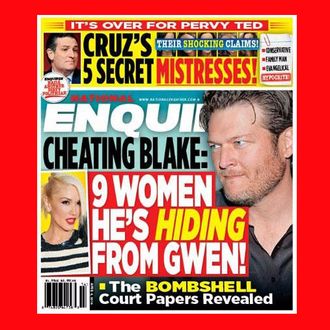 Donald Trump and Ted Cruz have been beefing back and forth about their wives this week, which makes for rather interesting timing for a salacious report in the National Enquirer. The new issue of the infamous tabloid out this week has the SHOCKING CLAIMS that "pervy" Ted Cruz has had at least five mistresses on the side. The tabloid prints five photos, each with a black bar across the eyes of the alleged Cruz lovers, a phrase that doesn't at all feel natural to write. 
The juicy details aren't available online, but according to the catnip teasers the National Enquirer has posted, at least one of the women is a "foxy political consultant and a high-placed D.C. attorney." That should make you either more skeptical (usually these stories involve women who are marginal to the political process) or less skeptical (Alabama governor Robert Bentley, just this week, was revealed to have something going on with a top aide).

Today's Twitter parlor game: Try to guess the identies of all five.
On Friday, Cruz denied the report in direct terms:
But also in stranger and more evocative ones:
This fall, New York's national-affairs reporter Gabriel Sherman wrote about the close relationship between GOP front-runner Donald Trump and the Enquirer CEO David Pecker after the tabloid printed some stories about Ben Carson's alleged medical mishaps. Per Sherman: 
This person also said that Trump's campaign was a source for the [Carson] article: "His campaign provided information that was used," he explained. A Trump friend said that in the days leading up to the article's publication Trump was telling people that Carson "had a lot of medical malpractice suits" and "almost killed a guy."
Donald Trump responded Friday afternoon to Cruz's charge that he's responsible for the story:
The National Enquirer also denied the front-runner's campaign had been the source. Allies of Marco Rubio were pushing the story before he dropped out — but it's not clear whether those efforts led to the Enquirer piece. 
This post has been updated to include Cruz's and Trump's responses.