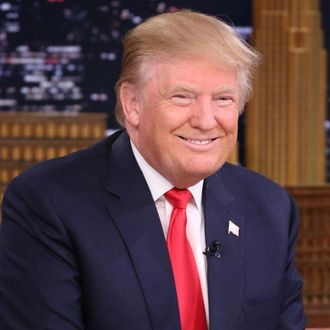 Favorite son.
Photo: Douglas Gorenstein/NBC
New York already bears some responsibility for the rise of Donald Trump. Our wealth-obsessed media helped turn the mogul into a national icon. Still, it's not like we're the ones propping up his presidential run. Maybe we inflated his ego by gawking at his vulgar antics for decades. But when it comes to this whole political phenomenon, that's on those backward southern states, right?
Wrong, says a new poll from Quinnipiac. The university finds Trump ahead of Cruz by 36 points, with 56 percent of the vote. Cruz boasts 20 percent support, with the "reasonable" Republican John Kasich at 19 percent. The poll is hardly an outlier and may even be underestimating Trump's strength in the Empire State — an Emerson poll from earlier this month had Trump at 64 percent.
If those numbers hold, Trump will have a chance to sweep all 95 delegates from the state. That kind of haul is exactly the boost Trump will need on April 19. After a week in which he accidentally tacked to the right of March for Life on abortion, contemplated nuking Europe, and saw his campaign manager arrested for battery, Trump's prospects of winning the nomination at a contested convention look lower than ever before. He will almost certainly need a majority of all delegates to take his improbable run across the finish line. New York is on the verge of doing everything it can to help him reach that threshold.
In our defense, the poll also finds that Hillary Clinton would trounce Trump by 20 points in these parts, while Bernie from Brooklyn would defeat him by 24.