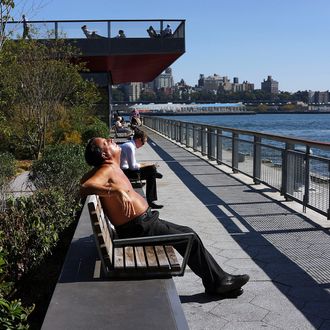 Okay, not quite — but close!
Photo: Spencer Platt/2013 Getty Images
If you haven't already, go ahead and give your puffy coat a break, and while you're at it, thank the weather gods (or, if you want to be scientific about it, a large ridge forming along the East Coast) for some truly pleasant temperatures in the New York area. Monday saw the mercury climb into the high 50s. That warm weather will stick around through the week, with Wednesday and Thursday likely seeing temperatures around — and probably exceeding — 70 degrees. The previous record for Wednesday's date is 69 degrees, set in 2000, and it's looking pretty likely that we'll break that. 
Average highs this time of year are usually in the mid-40s, which means the temperatures this week will be about 25 degrees above normal. And it's not just about welcoming heat — despite some extremes, this winter has been one of the warmest on record — because the sunny and clear skies are coming along with it. "It has been a while since we have been able to enjoy a period of warm temperatures that didn't feature rain, wind, or thunderstorms" is how New York Metro Weather sums up the struggle. Or, in other words, if you're planning on catching an imaginary stomach bug, Wednesday's definitely the day to do it. 
Rain, probably in the form of thunderstorms, will put an end to this precious gift on Thursday evening and extend into Friday, but it won't send us back into the chill. The rest of the week and weekend should be mild, at or nearing 60 degrees. There may be some more rain on both Saturday and Sunday. But generally, you can break out your new spring gear, and the most daring Caucasians among us can go ahead and blind their fellow New Yorkers by baring the winter-white glow of their pasty legs. 
Whether we'll be breaking up with winter for good is still hard to say for sure, but the temperature will probably be above average into next week. Daylight saving time, which kicks in Sunday, also means you'll no longer be leaving work in the dark. Meteorologists are predicting a bit of a cool-down after St. Patrick's Day, but according to AccuWeather, an interminable-feeling winter is unlikely, and April should also be warmer than average. So revel briefly while you can, because before you know it we'll be complaining about heat waves and humidity.