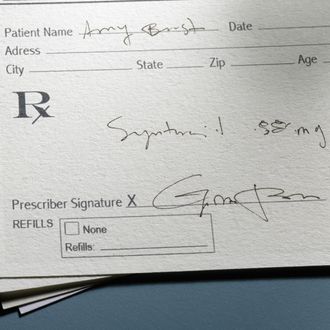 Doctors will no longer be allowed to handwrite prescriptions in New York State.
Photo: Jeffrey Hamilton
Judging your doctor for his or her chicken-scratch handwriting is about to become a thing of the past. Starting on March 27, doctors in New York State will be required to transmit prescriptions directly to pharmacies electronically in most circumstances, rather than write them out on paper for the patient. Officials believe the change, which comes about as part of a 2012 law designed to curtail prescription-drug abuse, will cut down on fraud, though it should also reduce errors resulting from the misreading of sloppy handwriting.
With the changes, New York becomes the first state to both require electronic prescriptions and actually penalize doctors who don't comply. (Minnesota also requires electronic prescriptions but doesn't penalize those who still use pen and paper.)
The change is the second major component of a 2012 state law known as I-Stop, which was designed to curtail prescription-opium abuse. The first part of that law to take effect required doctors to check an online registry before prescribing a controlled medication. The registry includes all of the controlled substances recently prescribed to a patient, so a doctor can spot a potential history of abuse. (The Times notes that the system is hardly foolproof and can be gamed by something as simple as a patient misspelling his or her name.)
Under the new rules for prescriptions, a patient will have to tell the doctor's office which pharmacy he or she would like the prescription to be filled at, or choose one from a database of available pharmacies. This, however, eliminates the option of shopping around for shorter waiting times or better prices. Doctors will now only be allowed to write prescriptions on paper in exceptional cases, like when there are technical issues or when it will be filled out of state. Doctors can also continue to handwrite prescriptions for things other than medicine, such as crutches or wheelchairs.
Via the Times, the switch to electronic prescriptions was supposed to take place last year, but it was pushed back because of software security issues that have now been fixed. But many doctors are still waiting until the last minute. As of January, according to the Times, only about 60 percent of the roughly 100,000 authorized prescribers in the state were set up to send prescriptions electronically, and about half as many could prescribe controlled substances, which requires an addition security step. The shift is an especially complex one for major health systems, and several — including Montefiore Health System, NYU Langone Medical Center, Northwell Health, and the Mount Sinai Health System — are applying for waivers to give them more time to implement electronic prescriptions in at least some of their facilities.