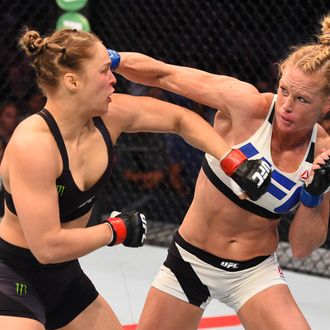 Holly Holm fights Ronda Rousey during UFC 193.
Photo: Josh Hedges/Zuffa LLC/2015 Josh Hedges/Zuffa LLC
New York lawmakers' decades-long fight over mixed martial arts appears to be over. On Tuesday, the New York State Assembly passed a bill to legalize the sport, which is exploding in popularity, and there are already plans to bring professional events to the state by the end of the year.
New York is the only state where professional MMA is still illegal, and fans have been hoping that might change since the fall of Assembly Speaker Sheldon Silver, who prevented the issue from coming to a vote for years. (Many believe Silver was motivated by his union affiliations, not concerns about the sport itself.)
The Wall Street Journal reports that there were three hours of "often raucous debate" on Tuesday before the measure passed 113-25. Some agreed with Arizona senator John McCain, who famously called the sport "human cockfighting." Others noted that professional MMA has adopted many safety regulations over the years, and as part of the legislation, amateur MMA, which is already legal in the state, will have to comply with state safety regulations for the first time.

Some had more unconventional reservations. Assemblyman Daniel O'Donnell, who is gay, said he decided to watch MMA before the vote. "Well, I should really like it. You have two nearly naked, hot men trying to dominate each other. That's gay porn with a different ending," said O'Donnell, who is the brother of Rosie O'Donnell. He said he would "take a cold shower," and hope that New York's ban would hold.
Many of those in favor of legalization focused on the economic benefits for the state. The Ultimate Fighting Championship, the top professional MMA promotion company, has said it expects to generate more than $68 million annually in New York. Arenas across the state have been pushing to make the sport legal, and UFC officials said they hope to hold two events in New York by the end of the year.
The legislation still has to be signed by Governor Andrew Cuomo, but he indicated that he supports it by listing professional MMA revenue in his proposed budget.