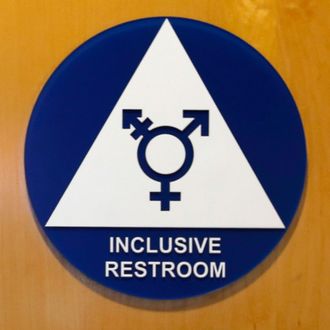 You won't be seeing this in North Carolina.
Photo: Lucy Nicholson/Reuters/Corbis
As Georgia's governor mulls anti-LGBT legislation that could threaten the state's relationship with the entertainment industry, North Carolina went ahead and passed a law allowing LGBT discrimination in less than a day. Last month Charlotte passed a nondiscrimination ordinance that would have allowed transgender people to use bathrooms that match their gender identity, among other protections. State Republicans sprang into action to prevent the measure from going into effect on April 1, convening a special session on Wednesday, at a cost of $42,000.
The legislation bans transgender people from using bathrooms or locker rooms that don't match the sex on their birth certificates, and prohibits local governments from enacting contradictory anti-discrimination policies. As the Charlotte Observer notes, the state currently has no legal protections for LGBT people, which means they can be refused service by business owners, and the new law prevents municipalities from adding additional protections.
Supporters of the legislation argued that the bill was needed both to clarify the state's authority on the issue, and to protect women and girls from the potentially dangerous situation of having "men" (or transgender women) in private spaces. (Transgender people will only be exempt if they have their sex changed on their birth certificate.)
"One of the biggest issues was about privacy," said North Carolina House Speaker Tim Moore. "The way the ordinance was written by City Council in Charlotte, it would have allowed a man to go into a bathroom, locker or any changing facility, where women are – even if he was a man. We were concerned. Obviously there is the security risk of a sexual predator, but there is the issue of privacy."
Madeleine Gause, a transgender woman, countered that it's unsafe for her and "freaks people out" when she's forced to use men's facilities. "People aren't getting raped and murdered," she told lawmakers. "They are just going to the bathroom."
Nevertheless, just ten hours after the legislation was introduced, it passed the House by a vote of 83–25, and the Senate by 32–0. (In the House 11 Democrats voted with the Republicans, and in the Senate every Democrat walked out in protest.) Governor Pat McCrory signed the bill into law on Wednesday night, tweeting:
The Human Rights Campaign said that in addition to the issue of discrimination, the bill will put North Carolina school districts in violation of Title IX, which means they could lose $4.5 billion in federal funding. "This is really not about bathrooms," said Democratic representative Rodney Moore. "This is about fear."