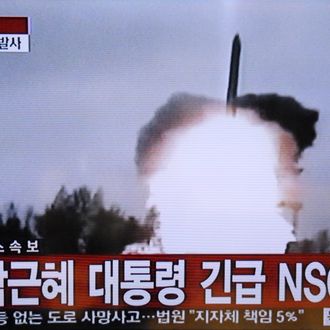 Like this one, but smaller.
Photo: Jiang Ye/Xinhua Press/Corbis
Though the government has reached no formal consensus on the issue, some U.S. intelligence analysts believe North Korea has "probably" managed to produce a miniaturized nuclear warhead, CNN reports, citing "several U.S. officials."
The isolated Stalinist regime of Kim Jong-un has been in full saber-rattling mode since the United Nations slapped it with fresh sanctions in early March over its refusal to stop testing nuclear weapons and ballistic missiles. Immediately after the sanctions were announced, Kim issued a statement through the state news agency that the country's nuclear weapons were "ready for use at any time."
Then last week, after the Obama administration imposed a new round of U.S. sanctions, the regime carried out two ballistic-missile launches and fired some short-range projectiles in the general direction of Japan. It also sentenced an American tourist to 15 years' hard labor for "subversion" after he allegedly tried to steal a propaganda banner from his hotel room.
CNN's sources say recent photos purporting to show Kim standing next to a miniaturized nuclear device are still being scrutinized, and those who believe Pyongyang has built such a device don't know if it would work. For the purposes of war plans, however, the U.S. military takes Pyongyang's threats seriously and assumes they do have a functional warhead.
In January, North Korea carried out an underground test that it claimed was of a hydrogen bomb. Later that month, U.S. analysts said the test might have been "a partial, failed" deployment of some components of a thermonuclear weapon. CNN adds that there are indications the country might be preparing to carry out another underground test.