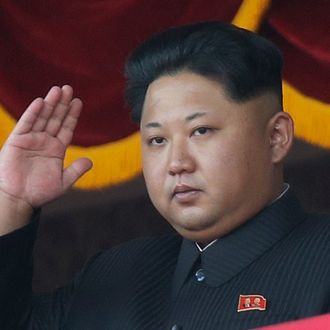 He wasn't rattled by the sanctions, or wants everyone to think he wasn't.
Photo: Maye-E Wong/© Corbis. All Rights Reserved.
North Korean leader Kim Jong-un has instructed his military to ensure that the country's nuclear weapons are "ready for use at any time," CNN reports. The move comes one day after the United Nations Security Council imposed new sanctions on the isolated country to penalize it for continuing to test nuclear weapons and ballistic missiles. The resolution passed on Wednesday requires all cargo entering and leaving the country to be inspected, bans all trade in weapons, and adds to the list of North Korean officials under individual sanction.
According to CNN, in a statement carried by the state news agency KCNA on Friday, Kim told the North Korean public that "under the extreme situation … the only way for our people to protect sovereignty and rights to live is to strengthen the quality and quantity of nuclear power."
The agency also confirmed that the military had tested a new multiple-launch rocket system, which may have been the "short-range projectiles" South Korea said it had observed on Thursday.
The Pentagon said it was "closely monitoring the situation" and urged the North Koreans to "refrain from provocative actions that aggravate tensions."
Pyongyang claims to have miniaturized nuclear weapons so as to mount them on missiles, but has yet to demonstrate that capacity in a test. The U.S. does not believe Kim's regime actually has the capacity to deliver on its nuclear threats, but still takes them seriously.
In January, North Korea tested what it claimed was a hydrogen bomb. Last month, it launched a satellite into space with a long-range rocket, in what other countries considered a thinly disguised ballistic-missile test.
The New York Times, meanwhile, reports that American and South Korean military officials met on Friday to discuss the proposed deployment of a new, sophisticated missile-defense system in response to the North's saber-rattling. The Terminal High-Altitude Area Defense, or THAAD, system would protect against a possible North Korean missile attack, but China opposes the system, which it fears would weaken its own nuclear deterrent.