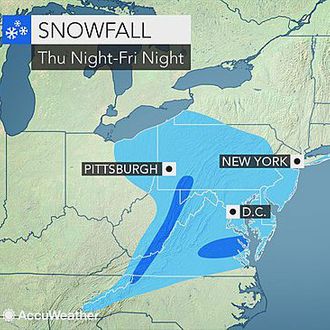 We can handle this!
Photo: AccuWeather
March is known for its mercurial weather. True to form, after a mild start on Tuesday, the mercury Thursday morning dipped near or below freezing, and felt even nippier with the windchill. That biting cold is sticking around, making way for some snow overnight from Thursday into Friday lunchtime.
The snowstorm is hugging the eastern coast, so the city will likely get a slight coating of snow — possibly an inch, likely less. Parts of Long Island and coastal Jersey may get one to two inches. The snowfall should taper off by afternoon, and the sun will probably melt away any accumulation. The storm system should be out of here by Friday night, says New York Metro Weather.
But will this March snow drop-in be something of a sendoff to winter? We don't want to jinx anything, but we can say that the weather people are saying we're in for some seriously springlike — even summerlike! — temperatures next week. After a seasonable (40s) weekend, Tuesday and Wednesday should see highs near 60 degrees, with Wednesday inching close to 70 city. The days should be sunny, according to the meteorologists, and glorious, according to everyone who's had it with winter.
New Yorkers, though, have not had a winter to gripe about. Despite our historic snowfall totals during the January blizzard and painfully cold Valentine's Day weekend, parts of New York — including JFK — have had the warmest winter on record. Central Park managed its second warmest since officials began keeping track — and we still have a few more weeks to go until spring officially arrives.