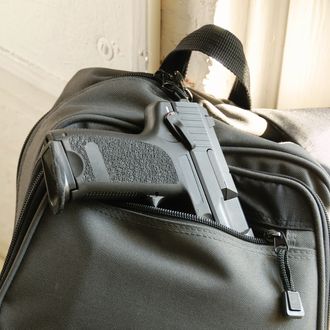 Popular backpack item this week.
Photo: Joseph C. Justice Jr./Getty Images
Police discovered a loaded 9-millimeter gun inside a 14-year-old's backpack at a Crown Heights middle school on Tuesday. The student said he'd brought it in because he'd had problems with another kid, and the weapon was found and confiscated before anyone was hurt. 
It's the third time a New York student brought a loaded gun to school in the past seven days. Last Wednesday, an 11-year-old student brought his grandfather's loaded 9-mm pistol to his school in Jamaica, Queens. The grandfather has been arrested for child endangerment, among other charges. Two days later, police responded to a call of a 15-year-old with a loaded .38-caliber revolver at York Early College Academy in Jamaica. This mini-rash of incidents raises the total to five such cases in 2016, the same number as at this point last year. Police also say that they have confiscated 25 percent more knives this year than last, and that the number of kids packing stun guns is way up. 
That said, the Department of Education reports that there's been a 29 percent drop in crime in city public schools over the past five years. In a recent survey, 91 percent of students said they feel safe in their hallways, bathrooms, cafeterias, and locker rooms, and in fact there's a proposal pending to remove metal detectors and scanners from public schools. (The school-safety officers' union is fighting it.) Elementary schools do not have metal detectors, but officers are allowed to scan students who they think look suspicious.