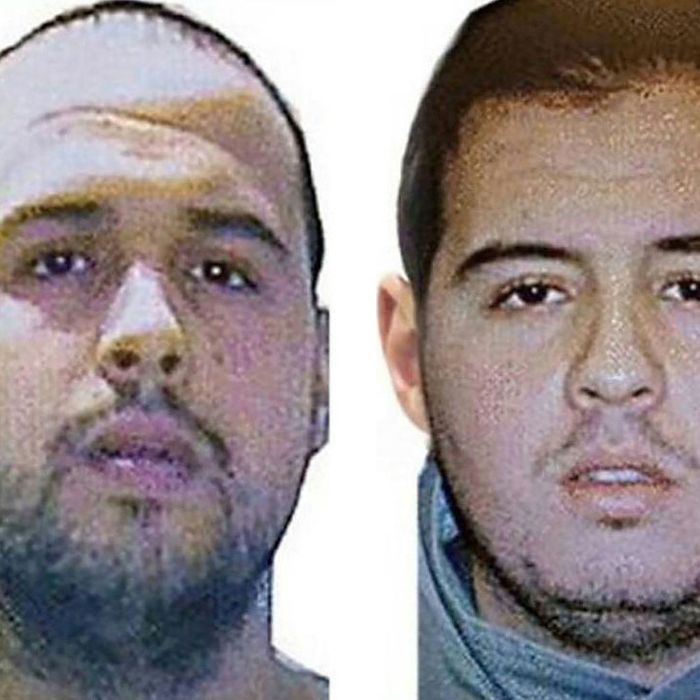 Khalid and Ibrahim el-Bakroui.
The intelligence failures of Belgian officials are coming under scrutiny in the aftermath of the Brussels attacks, as are the apparent gaps in information-gathering and law-enforcement cooperation among European countries. One such oversight trickled out when Dutch security minister Ard van der Steur, speaking before his country's lawmakers, had said the FBI warned the Netherlands that Khalid and Ibrahim el-Bakraoui — the brothers who blew themselves up in the metro station and the airport, respectively — had "ties to terrorism." But on Wednesday, van der Steur offered an interesting correction: Nope, actually not the FBI, but the New York City Police Department had notified Dutch authorities about the brothers.
The NYPD apparently did so on March 16, a little less than a week before the Brussels attacks. The New York Times says no official has said how or why our cops even knew about the el-Bakraoui brothers, or what prompted the force to contact Dutch police. (Daily Intelligencer has reached out to the NYPD for comment, and we'll update if we hear back.) 
It sounds like the Dutch might also have been a bit confused as to why a city police department had access to such intel and just assumed it came from the FBI. Per the NL Times, an English-language Dutch news site:
"The Dutch liaison at the embassy in Washington received the message from another big American investigative authority, namely the Intelligence Division of the New York Police Department," Van der Steur wrote. "As usual, the liaison forwarded this information to the National Police without specifying the origin. It was then assumed in the Netherlands that the information came from the FBI."
Dutch authorities say they passed along the NYPD's warning about the el-Bakraouis at a meeting with Belgian authorities March 17 — though Belgian officials deny that report. 
Ibrahim el-Bakraoui was deported to the Netherlands from Turkey last summer, after Turkish authorities had detained him in June as he tried to cross into Syria. Turkey said it had alerted Belgian officials that he had radical ties and tried to turn him over to Belgian police, but Belgium did not heed those warnings. Ibrahim el-Bakraoui was sent back to Europe, where he was free to travel anywhere.