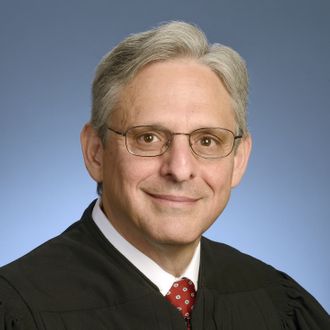 Merrick Garland.
Photo: U.S. Court of Appeals District of Columbia Circuit
President Obama sent an email blast this morning to say he's chosen a candidate to fill Antonin Scalia's vacant seat on the Supreme Court, and White House officials say it'll be Merrick Garland, a judge on the U.S. Court of Appeals in the District of Columbia. It is likely that this announcement will be met by a stone-faced Senate, where the Republican leadership has vowed not to hold confirmation hearings until a new president takes office in January. Obama is moving ahead anyway. "It is both my constitutional duty to nominate a Justice and one of the most important decisions that I — or any president — will make," wrote Obama in his announcement.
Two federal judges in addition to Garland had been widely discussed for the job: Sri Srinivasan, also from the D.C. appeals court, and Paul Watford, from the Ninth Circuit in San Francisco. The White House has created a Twitter handle (@SCOTUSnom) for anyone following the announcement at home (or anywhere).
This post has been updated throughout.