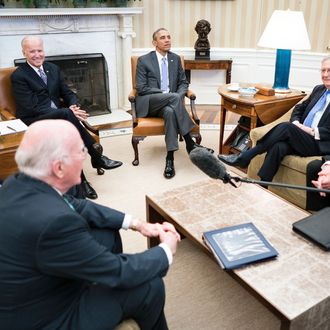 Just a couple of bros, hanging out, talking basketball and the future of the highest court in the land.
Photo: BRENDAN SMIALOWSKI/AFP/Getty Images
A meeting with President Obama at the White House Tuesday afternoon did absolutely nothing to nudge GOP senators away from their unprecedented refusal to consider any nominee chosen by the president to fill Justice Antonin Scalia's vacant Supreme Court seat.
Obama sat down with Senate Majority Leader Mitch McConnell and Senate Judiciary chair Chuck Grassley in the Oval Office to see if they'd be open to rethinking their position and doing their constitutional duty and/or the bare minimum of at least holding hearings on a nominee. Vice-President Joe Biden, Senate Minority Leader Harry Reid, and Senator Patrick Leahy, the ranking Democrat on the Judiciary Committee, also attended the meeting, which the Democratic senators described as "very short" and where they "killed a lot of time talking about basketball." 
"They think they are going to wait and see what President Trump will do, I guess, as far as the nomination is concerned," Reid told reporters after the conference.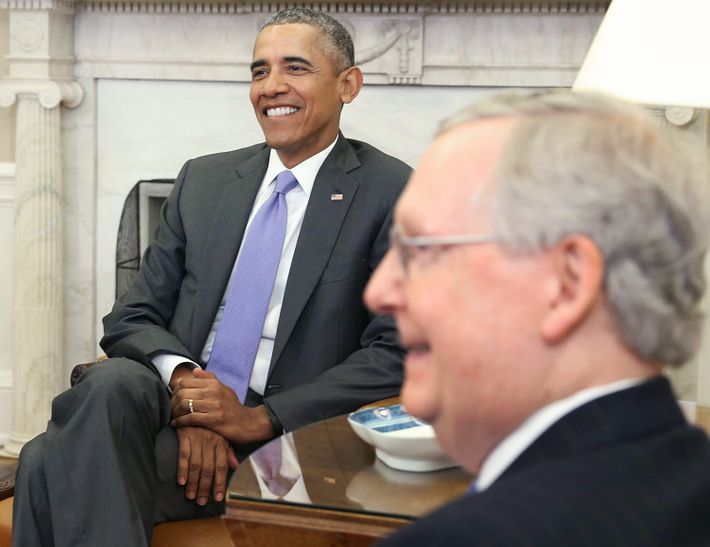 President Obama reportedly asked the GOP senators if they wanted to float any judges' names. Apparently McConnell and Grassley declined, but the White House said the administration would continue begging consulting with Republican leadership and seriously consider any person suggested.
The GOP senators responded after the sit-down by seeming to dig in their heels even deeper. "This vacancy will not be filled this year," Mitch McConnell said later Tuesday, making it clear they're postponing any action until after the 2016 election. (Obama has about 11 months left in his term.) "We look forward to the American people deciding who they want to make this appointment through their own votes," McConnell added.  
Last week, President Obama was reportedly mulling over nominating the Republican governor of Nevada, Brian Sandoval, for Scalia's seat. Sandoval, a former federal judge, is the GOP's closest thing to a centrist these days: He has come out against Obamacare and the administration's executive orders on immigration, but is pro-choice. Sandoval, however, quickly withdrew his name from consideration, and the SCOTUS stalemate continues.