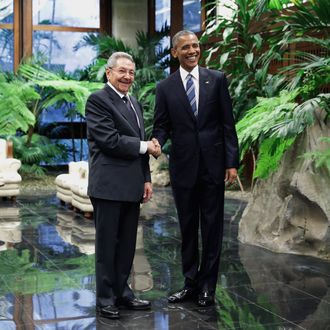 Viva la reconciliación.
Photo: Chip Somodevilla/Getty Images
After the first official talks between the U.S. and Cuba in a generation, President Obama suggested that the end is nigh for America's trade embargo on the communist island, the New York Times reports. 
"What we did for 50 years did not serve our interests or the interests of the Cuban people," Obama told reporters in Havana Monday. 
But before anyone could tweet "Dinesh D'Souza was right," Obama reiterated America's opposition to the Cuban government's suppression of dissent, saying, "We continue to have serious differences, including on democracy and human rights."
Those differences were a prime subject of Monday's historic meeting between Obama and Cuban president Raúl Castro. After taking in a rendition of their respective national anthems outside the Palace of the Revolution, Obama and Castro sat down for back-to-back meetings, the first a "one-on-one," limited to the two leaders, their translators, and security. Obama's pitch in these meetings appears to have been fairly straightforward: Make your economy and political system look more like ours and I'll have an easier time convincing Republicans to lift that whole embargo thing. Specifically, Obama is seeking economic-liberalization measures that would allow greater U.S. investment into the communist island's economy and democratic reforms that would give the Cuban people more control over their government. Per USA Today, the president is telling Castro: Nice influx of American tourists you got here; it'd be a shame if something prevented your economy from profiting from them. "If we don't end the embargo soon, 5 million American tourists are going to be coming to Cuba, but they're going to be staying in Spanish hotels and eating Chinese food," Obama warned.
Cuba may be eager to collect the cash of vacationing imperialists, but the Castro regime appears to have less of an appetite for democratic reforms. Hours before Air Force One touched down in Havana on Sunday, police made dozens of arrests at the weekly march of Ladies in White, a prominent dissident group that Obama will meet with on Tuesday.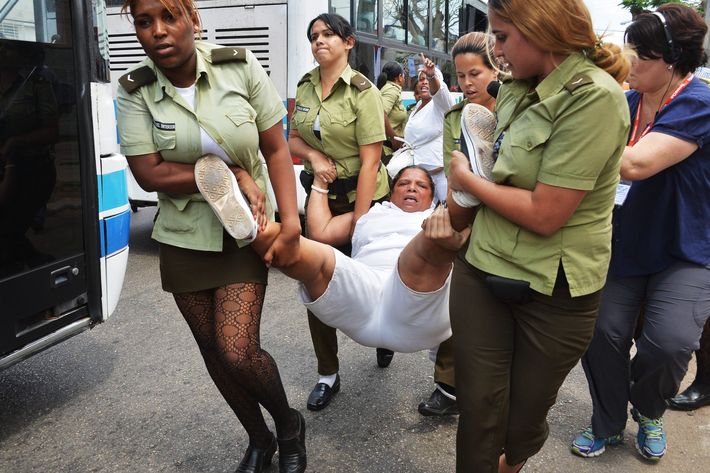 At Monday's press conference, Castro was asked about political prisoners in Cuba. The Cuban president replied, "Give me a list of political prisoners and I will release them," before saying, "It's not correct to ask me about political prisoners in general."
Castro had reportedly resisted the idea of taking questions from the press at all, but relented under Obama's request. The Cuban leader ended the short conference by abruptly declaring, "I think this is enough." 
Monday's meetings were the third encounter between Obama and Castro, after a handshake at last April's summit of the Western hemisphere and a brief chat at the United Nations General Assembly last September. 
Earlier Monday, Obama laid a wreath at the memorial of Cuban poet and independence hero José Martí.
Although the primary objective of Obama's trip is to advocate for market reforms in one of the last bastions of communism, he still made sure to pose for some photographs that will feed the paranoid fantasies of the American far right.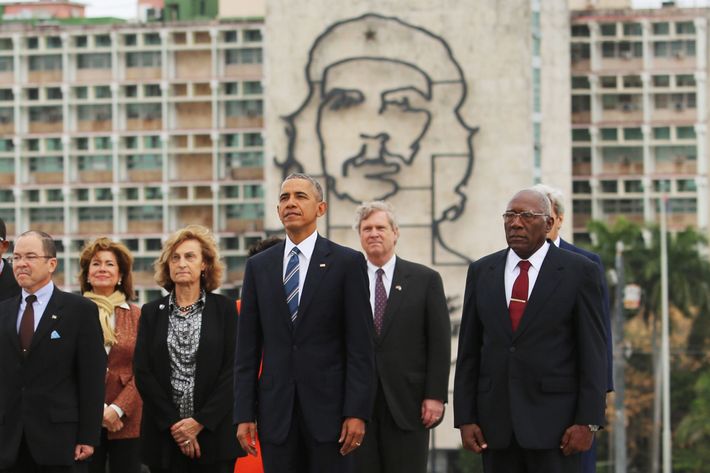 Here are some more of the best photographs from Obama's historic trip.