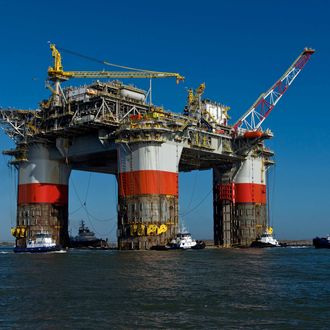 Won't see this on the East Coast anytime soon.
Photo: Eddie Seal/Bloomberg via Getty Images
The Obama administration has pulled a complete 180 on a plan to open part of the southern Atlantic coast — spanning Virginia to Georgia — to oil and natural-gas drilling, reports the Times. It's a reversal of the announcement the White House made just last year.
Environmental activists and coastal communities had fought the proposal, citing pollution concerns and adverse effects on local economies and tourism. The Pentagon also released a report Monday that expressed deep reservations about Atlantic drilling, saying it could interfere with and undermine military and naval exercises along the coast, particularly in Virginia. (The DOD has a massive naval complex on the coast in Norfolk, Virginia, that employees about 78,000 people.) Low oil prices worldwide probably factored in, too.
Governors and state lawmakers — to say nothing of oil and gas companies — saw drilling as an economic boon, and probably won't be thrilled with the change of course. But according to The Wall Street Journal, the plan — drawn up by the Department of the Interior, which also oversees oil and gas leases in the Arctic and Gulf of Mexico — may not be finalized by the time Obama leaves office. That could turn Atlantic drilling into a general-election issue, as the next person in the White House must carry through the decisions that are being made now (see: Democrats) or tear them up (see: GOP).
As the Times notes, the administration's decision, coming in the final months of Obama's last term, fits squarely with the president's attempt "to build an ambitious environmental legacy," including with coal-and-power-plant restrictions and the accomplishments of the Paris climate deal. Last fall, the Obama administration blocked drilling in the Alaskan Arctic for two years and said it would not renew current leases when they expire.