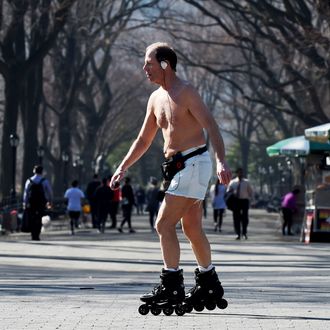 This guy gets it.
Photo: Timothy A. Clary/AFP/Getty Images
We gave ample warning that New York City might break a temperature record Wednesday, but this March day overachieved big time. The thermometer hit 77 degrees in Central Park, shattering the previous record of 69 degrees, set in 2000. 
So it at least feels officially like iced-coffee season in the city. It's almost like July in Jersey — or at least at Newark Airport, which hit 82 degrees. 
What's more, the weather will stay pretty awesome through Thursday — likely into the 70s — and then it'll go a bit cooler and cloudier since rain might be coming through Friday. The temperatures will also hover above average through the weekend, though New Yorkers will have to settle for high-50- and low-60-degree temperatures, which does feel a little unfair after this glorious workweek's weather.
This post has been updated to reflect a slight temperature increase in Newark, New Jersey.