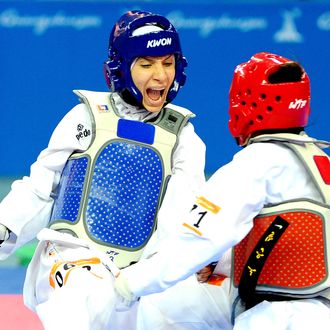 Raheleh Asemani.
Photo: Chen Kai/Xinhua Press/Corbis
An Olympic team of people who have fled their countries will be allowed to compete at the Games in Brazil this summer. On Wednesday, the International Olympic Committee green-lit the squad, saying that 43 high-performance athletes-in-refuge have already been identified as possible candidates for the team. The IOC is looking to enable talented athletes without national affiliations to compete on behalf of those who are dispersed and on the run. 
"We have all been touched by the magnitude of this refugee crisis. By welcoming this team, we want to send a message of hope to all the refugees in the world," said IOC president Thomas Bach. The team will compete under the Olympic flag.
There are a few front-runners for the team. Raheleh Asemani is an Iranian woman working as a mail carrier in Belgium, won a tae kwon do qualifying tournament in Europe in January, and looks to be a shoo-in for the team. Also in the running is the judoka Yolande Mabika, who fled war in the Democratic Republic of the Congo and now lives in Brazil. Mabika has not seen her family in three years and, she has said, hopes that competing in the Olympics will help her relatives find her.