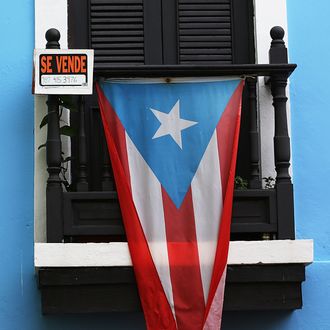 For a small island nation, Puerto Rico has racked up a lot of debt.
Photo: Joe Raedle/Getty Images
Puerto Rico, where late, great Republican candidate Marco Rubio earned favor, is on the verge of economic collapse. The country is $70 billion in debt and is relying on U.S. officials to help come up with a plan that will neither crash its economy nor upset its creditors, who want their fair share of the payout. The island is facing a May 1 deadline to make a $422 million bond payment, and another $2 billion is due July 1.
The Republican-led committee in charge of fixing Puerto Rico circulated the first draft of its bill on Tuesday, and to no one's surprise given the complexity of the issue, it did not make everyone happy. In its current form, the bill would require the island to reach an agreement with creditors to restructure its debt in a manageable way. It would also establish a board of U.S. officials to oversee Puerto Rico's finances, accounting, and spending.
If the country couldn't come to an agreement with debtors, the bill would allow it to file for a "court-supervised debt restructuring process based on key statutes within U.S. bankruptcy law," Reuters writes. In other words, as is the case when an entity goes bankrupt in the U.S., the country could force its creditors to take reduced payments. (Such a stipulation was unexpected, as creditors and House Republicans have opposed allowing Puerto Rico to declare bankruptcy.)
Creditors were unhappy with the draft because of the whole reduced-payment thing, and a U.S. Treasury spokesperson said the bill fails to provide "a lasting, workable solution." House Minority Leader Nancy Pelosi criticized the "sweeping powers of the oversight board" that would be put in place under the bill, and a financial adviser to many of Puerto Rico's creditors told Reuters the bill is "fiscally irresponsible." The Natural Resources Committee said that "retroactively adding territories" to the federal bankruptcy code "is ill-conceived and would undermine the rule of law."
Puerto Rico isn't a huge fan either. Pedro Pierluisi, the country's Democratic delegate in Congress, objects to a portion of the proposed bill that says the U.S.-led oversight board would be terminated after five years of balanced budgets. "I believe this is too long, and that three years is a more appropriate time frame," he said in a statement. He'd also like the bill to make it clear that "the Board would assist Puerto Rico's elected leaders, not displace them" — a valid concern from one of Puerto Rico's elected leaders.
So it's back to the drawing board for the U.S. House of Representatives Committee on Natural Resources, which is expected to release an official draft of the bill April 11.