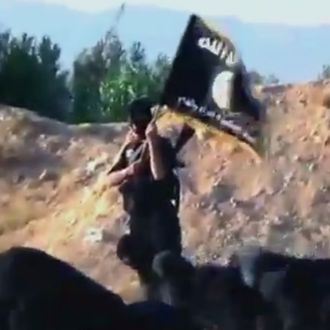 Losing at least one member.
Sources in the Kurdish peshmerga armed forces told CBS News on Monday that they have detained a U.S.-born man who was in the process of defecting from ISIS and heading to Turkey. NBC has identified the detainee as the Palestinian-American Mohamed Jamal Khweis, a 26-year-old from Alexandria, Virginia. (An earlier report from Kurdish media source Rudaw, picked up by CBS, had identified the man as Muhammad Jamal Amin.) Family members were shocked to learn of his affiliation, and told NBC News that Khweis had told them he was vacationing in Europe. "He doesn't even speak Arabic. ISIS? I cannot believe this," said his uncle, who identified him from his ID photograph. "He's a quiet guy … a nice guy. He had a car, he had a job."
Khweis was found in ISIS-controlled territory near Sinjar in Iraq, apparently carrying a large amount of cash and a U.S. driver's license. Kurdish forces said that they initially thought he was a suicide bomber and fired warning shots in his direction before he persuaded them that he was looking to turn himself in. Kurdish officials say that Khweis entered Syria from Turkey two months ago and headed straight for Mosul.
The U.S. State Department is in touch with Iraqi and Kurdish authorities and is investigating "the veracity of these reports." It remains unclear whether Khweis was captured or simply surrendered. The reason behind Khweis's sudden desertion is unclear, but around a dozen Americans are thought to have joined ISIS forces even as the group's strength has waned. In the past year ISIS has lost more than 40 percent of its territory within Iraq, and in January cut salaries in half.