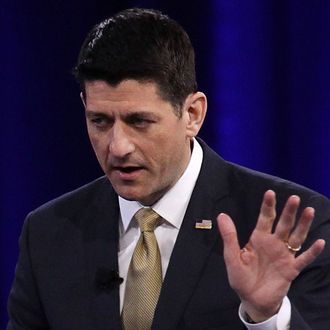 Come on, guys.
Photo: Alex Wong/Getty Images
House Speaker Paul Ryan said he was "flattered, but not interested" when the Committee to Draft Speaker Ryan filed with the FEC as a super-pac bent on getting the new speaker to run for president. However, Reuters is reporting that, on Thursday, the speaker sent a cease-and-desist letter to the group, insisting that he was not running and warning them that they faced legal problems. 
"We believe the actions of your organization are not in compliance with federal law and may constitute fraudulent solicitation of funds," said the letter, according to Reuters. "Speaker Ryan has repeatedly announced publicly that he is not running for president in 2016 … It is in the public interest for your organization to cease potentially confusing and misleading people into supporting your organization." The group has taken down the "donate" button from its website and is now solely on a long-shot mission to get one million signatures in favor of drafting Ryan.
A New York businessman and thoroughbred-racing enthusiast named Earle Mack is the major financial force behind the committee. He recently told the New York Times that he's given $1 million towards the effort, which he says is not a direct attack on Donald Trump's candidacy but an attempt to win an election he calls a "schoolyard scuffle."