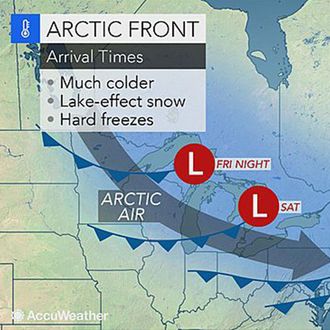 Arctic air coming your way, whether you like it or not.
Photo: AccuWeather
New York's warm, soupy, summerlike Friday is basically a cruel April Fools' joke. Wear your sandals and sundresses, if you must, but know that in about 24 hours you'll have to trade them in for a sweater and probably your puffy coat. That's right: Winter isn't through with us just yet.
Potentially heavy thunderstorms will push through our area Friday night, and our old pal the polar vortex will be trailing right behind it. That icy pocket of Arctic air is stopping by the East Coast this weekend, and it's going to send temperatures tumbling. It is also gifting us some possible snow showers Saturday night into Sunday.
The good news is this cold front won't be a repeat of the polar vortex's last visit (on a certain February weekend) by any stretch, though temperatures will be unseasonably cool. Sunday will see highs only in the mid-40s and lows 30s, possibly bringing those snow flurries. New York City likely won't see any accumulation, though some parts of upstate New York and southern New England might.
But New Yorkers will have to contend with another element: crazy-strong winds, with gusts roaring at up to 50 or 60 miles per hour.
The polar vortex will be out of here by Monday, but chilly temperatures are going to stick around through the workweek. Parts of the tristate area might get a glimpse of flurries again early Tuesday, and New York might not even crack 50 degrees until Thursday. 
But let's end on a more apocalyptic note. This March ended up being the fourth-warmest on record in New York — fully 6.4 degrees above average. While we don't quite yet know what treats the rest of April has in store for us, forecasters had generally predicted another hotter-than-normal four weeks, which, if you avoid thinking about the fate of humanity, sounds pretty nice.