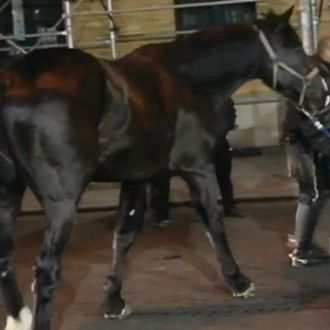 Gunny, after being secured by cops.
Photo: ABC
Wednesday night, a police horse got spooked by a loud noise from a truck on 48th Street between Sixth and Seventh avenues and tossed off a mounted officer. The horse, named Gunny, hit the side-view mirror of a cab and began rearing, then dragged the officer for a bit before he could free himself from the stirrups. The officer, an NYPD sergeant, was taken to the hospital with non-life-threatening leg and back injuries, while Gunny roamed Times Square.
According to ABC 7, Gunny did minor damage to a few cars, but otherwise seemed to know where it was going. The horse galloped around Times Square, eventually making its way to a parking garage where mounted-unit officers hang out when they're on break. Police eventually secured the horse on 47th Street and Seventh Avenue about ten minutes after it had tossed its rider. Police said that Gunny was being checked out by veterinarians.
"It looked like some mad horse with no jockey," a witness told ABC 7.
It's not the first time in recent years an NYPD horse has gotten spooked. Last year, an officer was bucked off a police horse that got frightened by a band during the Greek Independence Day parade. And in 2014, a horse ran around midtown after being scared by a garbage truck.