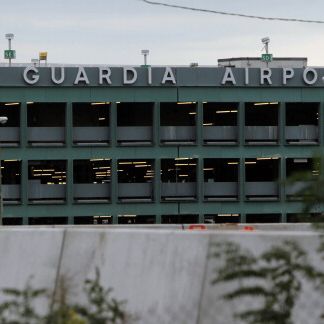 On Wednesday New York's "Third World" airport lived up to its miserable reputation after a giant pothole opened up on a concrete La Guardia runway and caused cascading delays.
That's right: All it took to snarl up the northeastern United States was a pothole. Granted, it was a really big one: an eight-foot-by-two-foot crater possibly born from the force of a landing passenger jet — but it backed up flights for nearly five hours. On average, travelers saw about an hour's delay for outgoing trips, and about a half-hour's for arrivals. "We thought we were departing the plane and the pilot basically said there were 27 planes on the tarmac and we had to wait another hour, " is how one traveler described the dystopia to CBS 2.
A pilot on a departing plane was the one who first spotted the hole and nearby debris around 3 p.m. on Wednesday. The runway shut down while repair crews rushed to fill it, leaving only one runway open and planes lined up for a very long time to use it. The second runway reopened around 8 p.m.
Governor Cuomo announced a plan last year to rebuild La Guardia completely, but, until then, New Yorkers are stuck with this crumbling embarrassment of an airport. Then again, the Port Authority is apparently doing something right; the pothole got fixed way faster than the one on your block probably will.