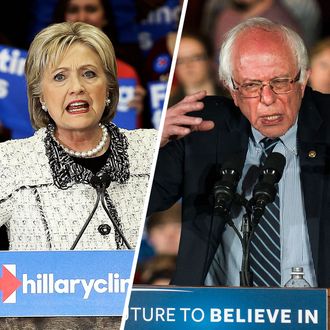 Bernie Sanders benefits on March 22 from the first of this week's series of Democratic caucuses.
Photo: Win McNamee/Getty Images; Stephen Maturen/Getty Images
Tomorrow night brings two of the salvific wave of western caucuses that should heal some of the wounds Bernie Sanders suffered on March 15. If the usual demographics hold true, white caucusgoers in Idaho and Utah will give Sanders his usual winning margin with few minority voters to offset them. 
Sanders actually gave some personal attention to Idaho with two campaign appearances. And he pulled off one of his monster rallies in Salt Lake City Friday, drawing 14,000 people and overshadowing a noisier but smaller Trump event. Sanders was back in the city on Monday. A Clinton win in either Idaho or Utah would have to be considered an upset, though she will obviously win some delegates. Polling has been scarce in both states, but a pre-March 15 Deseret News survey of Utah showed Sanders up 52/44. Another thumb-on-the-scale for Sanders is that both caucuses, unlike their Republican counterparts, are open to participation by independents.
Arizona's primary tomorrow is generally expected to go to Clinton, who beat Obama there by a comfortable margin in 2008. Over a quarter of the primary vote should come from Latinos, just under 10 percent from African-Americans, and another 5 percent from Native Americans; all these demographic groups should give Clinton at least some boost (though one of Sanders's very first congressional supporters, Representative Raúl Grijalva, could help Sanders do better than expected among Latinos) as will the closed primary rules that keep independents from turning out for Bernie. There is a somewhat stale (March 7-11) poll showing Clinton up 50/24; it would be surprising if she won by that kind of margin, but far more surprising if Sanders pulled the upset. Bernie will likely have the better week by its end, though, with three more very inviting western caucuses (in Alaska, Hawaii, and Washington) coming up on Saturday. 
Polls will close in Arizona at 10:00 p.m. EDT.  The Idaho Caucuses will begin formal proceedings at 10:00 p.m. EDT, with results probably known in two-to-three hours. In Utah, caucusing should end at about 10:30 p.m. EDT.