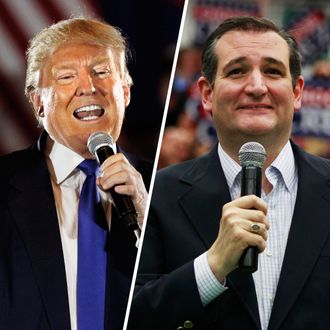 Tomorrow's contests are unlikely to change the dynamics of the Republican contest, though Trump and Cruz should each have something to brag about.
Photo: John Sommers II/Getty Images; George Frey/Getty Images
There are two major Republican contests on Tuesday: a winner-take-all primary in Arizona that awards 58 delegates to the statewide plurality leader, and a caucus in Utah that awards 40 delegates statewide proportionately, but with a 15 percent minimum threshold and a winner-take-all "trigger" of 50 percent. 
The most certain outcome of the night is that Ted Cruz will win Utah's Republicans-only closed caucuses, benefitting from a good organization, a deeply conservative state party, and the support of his closest ally in the Senate, Mike Lee, along with Governor Gary Herbert. In addition, for a variety of reasons ranging from his personal crudeness to his constant disrespecting of LDS hero (and Utah voter) Mitt Romney, Donald Trump appears to be deeply unpopular among Latter-day Saints, who dominate the Utah GOP. And speaking of Romney, while he cannot be counted as a Ted Cruz supporter, he has indicated he will vote for the Texan tomorrow as part of his division-of-labor strategy for denying Trump the nomination. 
Cruz is also fortunate Marco Rubio, who had LDS ties, has withdrawn from the contest, leaving him with a good chance to crack 50 percent and claim all of the delegates. The latest public poll in the state, from Y2 Analytics, shows Cruz with 53 percent, Kasich at 29 percent, and Trump far back at 11 percent. Another poll from the Deseret News has Cruz at only 42 percent, but that's in part because it was taken before March 15 and shows Rubio with 17 percent.  
While Trump is not exactly flourishing in Utah, it's a different scene in Arizona, where he benefits from strong nativist sentiment among white voters and endorsements from former governor Jan Brewer and Maricopa County (that is, greater Phoenix) sheriff Joe Arpaio. Polling has been sparse, but the only post-March 15 poll, from Opinion Savvy, has Trump leading with 46 percent, Cruz at 33 percent, and Kasich seriously cutting into the anti-Trump vote with 17 percent. Cruz is probably gaining strength as the primary nears; he's been endorsed by all but one of the state's GOP House members, and he benefits from a closed primary where Trump's independent supporters cannot participate.  
Trump's ace in the hole in Arizona is early voting: The state has an unusually long early voting period, and nearly as many votes have already been cast as votes in the 2012 primary there. That almost certainly means some wasted votes for Rubio have gone into the bank, giving Trump an advantage that election-day votes would have to offset for Cruz to pull an unlikely upset. The very first votes to be reported tomorrow night will probably be early votes, so you should expect Trump's initial lead to decline. 
There's actually one other GOP contest slated for March 22: a local convention in American Samoa, where a very small number of voters — it's a closed event and relatively few American Samoans choose to affiliate with the two parties, which are not active in local elections — will elect nine delegates to the convention, making the territory's Republicans probably the best-represented individuals in the country this year. By rule, all of American Samoa's delegates will go to Cleveland unbound, but given the relatively large number of LDS folk living in the territory, it's probably not Trump Country. 
If you are looking for Republican returns tomorrow night, the first should be from Arizona, where polls close at 10 p.m. EDT. The Utah caucuses run from 9 to 11 p.m. EDT, but a new experiment in online voting means caucusing won't end until 1 a.m. EDT. And you probably shouldn't wait up for returns from American Samoa; aside from the fact that the delegates will be unbound, Pago Pago is ten hours behind EDT.