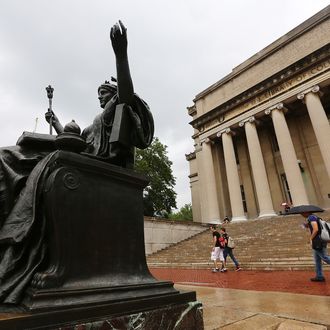 Enrichetta Ravina wants $20 million from the school.
Photo: Mario Tama/2013 Getty Images
Columbia University is facing another Title IX lawsuit, this time from a professor. Enrichetta Ravina, an assistant professor of finance and economics at Columbia's business school, has sued the university on the grounds that she was "subjected to gender discrimination and sexual harassment" by professor Geert Bekaert, a male colleague. Bekaert, who's taught finance and economics at Columbia since 2000, reportedly offered Ravina exclusive access to a data set for her research. Then, when the data had become so crucial to Ravina's work that she couldn't move forward without it, he allegedly began to tell her about his porn habit and call her "sexy," the New York Times reports.
In the lawsuit filed in federal district court on Tuesday, Ravina said that she "complained repeatedly to Columbia officials about the situation, but that they only dismissed and belittled her." She's suing the school for $20 million in damages and has filed a separate suit against her Bekaert. "I never really wanted to be in this position, but this was the only thing I could do," she told the Times. "I felt really betrayed. I thought the university should have solved this."
Ravina, who'd recently applied for tenure, said she first complained to her higher-ups at the business school, but one dean dismissed her story as a "soap opera." Others told her to forget Bekaert's inappropriate remarks and to give up her research.
In June, university officials told her she would be put on paid leave for the 2015–16 academic year, but by September they'd changed their minds and decided to fast-track her tenure application, giving her less time to prepare. When reached for comment, the university said only that it "treats allegations of harassment with the utmost seriousness." 
Bekaert outright denied the allegations, calling Ravina's lawsuit "a sad example of no good deed goes unpunished." He told the Times that Columbia had investigated Ravina's claims but found them to be "baseless." He went on: "I am sickened that a colleague would manufacture false stories, statements and events and attempt to destroy my reputation."