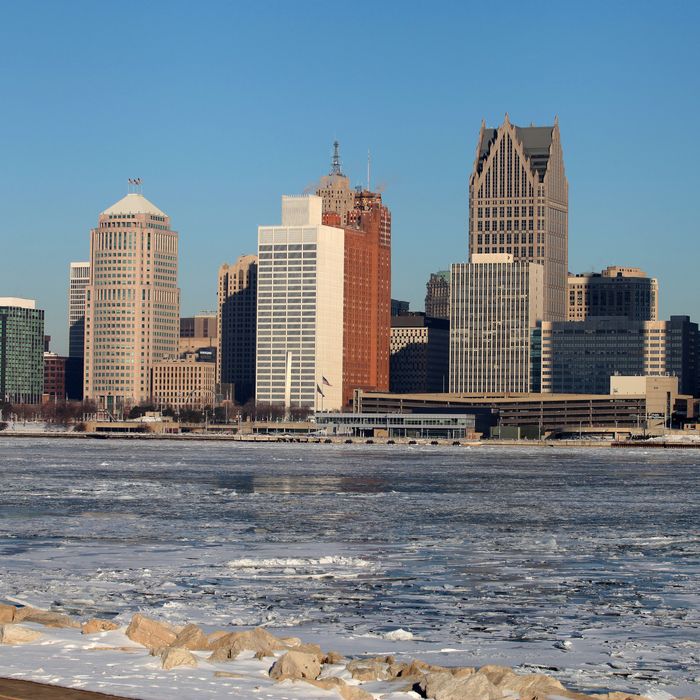 More woes for Detroit.
Photo: Raymond Boyd / Contributor
Good morning and welcome to Fresh Intelligence, our roundup of the stories, ideas, and memes you'll be talking about today. In this edition, 13 public-school principals are charged with bribery, Trump's response to his campaign manager's battery controversy gets even less mature, and unions celebrate a rare win. Here's the rundown for Wednesday, March 30.
WEATHER
Now it's the South and Midwest's turn for severe weather including dangerously high winds, hail, thunderstorms, and maybe even some tornadoes. Flash-flood warnings are in effect in the Mississippi Valley, and snow continues to dump on the Rockies. In New York, things should stay sunny and mild. [Weather.com]
FRONT PAGE
More Than a Dozen Detroit Public-School Principals Charged With Bribery
An incredible 13 principals in the Detroit public-school system were charged with bribery yesterday. They are accused of taking part in a kickback scheme that went on for more than a decade. The principals would allegedly receive bribes in exchange for ordering supplies for their schools that were never delivered. A vendor for the school system who provided the bribes was also arrested. In case you're thinking this was a small-time scam, the principals received $900,000 in bribes over the 13 years the scheme was in effect, and the vendor received $2.7 million for goods he did not deliver. This at a time when, let's just say, Detroit Public Schools did not have a lot of extra cash. [CNN]
EARLY AND OFTEN
Lewandowski Goes Down
Donald Trump's campaign manager Corey Lewandowski turned himself in yesterday morning after authorities charged him with battery over his manhandling of a journalist at a Trump rally. For his part, Trump said no jury would convict him and, in one of his classier moments, argued that if the reporter were really hurt, she would have screamed more.
Media to Trump: "I Know You Are, But What Am I?"
The GOP front-runner addressed the Lewandowski situation again at a CNN town hall on Tuesday night, claiming the reporter touched him first and is just being a "baby." Then, when asked about picking a fight with Ted Cruz over their wives' hotness, Trump insisted, "I didn't start it." Anderson Cooper told the candidate he was being childish, saying, "Sir, with all due respect, that's the argument of a 5-year-old."
Unions Victorious Over Scalia's Dead Body
Union activists were expecting a big defeat in the Supreme Court over whether they could collect fees from workers who declined to join them, but then Antonin Scalia died. His absence left the court deadlocked on Tuesday, dealing the unions a major, if potentially short-lived, victory — the tie left open the possibility of the court reconsidering the case at a later date.
Politician Is Reasonable, Makes the News
Mark Kirk, the Republican senator from Illinois, actually met with Supreme Court nominee Merrick Garland yesterday and said that fellow Republicans needed to be more "adult" and "open-minded." He then lit the American flag on fire. No, no, we're joking. [CNN]
THE STREET, THE VALLEY
Greedy Pilots Call for 2004 Wages
Delta pilots have come out and asked for a 40 percent raise. That may sound extreme, but the raise would only bring their pay back to what it was in 2004 — more than a decade ago, if you're counting. And, just in case you think their ten-year pay cut is based on reality at all, Delta posted record-breaking profits last year. [CNN]
Obama to Cut Deficit by Trillions, America Still Doomed
President Obama's proposed 2017 budget would cut the deficit by $2.4 trillion according to the Congressional Budget Office, an estimation that is $776 billion less than the White House's. Before you break out the champagne, keep in mind that even with the new budget, the United States would still have a deficit of $6.9 trillion. How embarrassing. [Reuters]
Big Changes in the World of the Neon V-Neck
Some big new appointments to the American Apparel board were announced yesterday, including Paul Charron, the former CEO of Liz Claiborne, in the top spot, and a new role for Susan Davidson, the head of the Zac Posen design house. Note how this article brutally refers to American Apparel as a "teen retailer." [Reuters]
Billionaires for Equality
More than 80 of the biggest names in the tech industry signed a statement condemning North Carolina's recent anti-transgender legislation. Signatories included CEOs from Apple, Twitter, IBM, Airbnb, Dropbox, and for some reason, Harvey Weinstein. This came the day after North Carolina's attorney general said the law was discriminatory and that his office would not defend it. [CNet]
MEDIA BUBBLE
Kanye West Has a New Album Out?
Kanye West's new album The Life Of Pablo — how did we miss this? — was streamed 250 million times in the ten days after it was released, according to figures just released by the streaming service Tidal, the only place where the album is available. Those numbers would have easily gotten the top spot on Billboard's album ranking if only West hadn't been too tortured and creative to release them. [AV Club]
Finally, a Place to Stream Music Online
SoundCloud, the website where your nephew posts his beats, is getting into the streaming game and looking to go after Spotify with a paid premium tier that would offer subscribers access to millions of premium songs. What makes a song premium? Synth? The service, called SoundCloud Go, will run at $9.99 a month. [TechCrunch]
NFL Cries Foul
The NFL is demanding that the New York Times retract a recently published and heavily reported front-page story claiming the football league used shady science to make it seem concussions were not as serious of a problem as they are, and exposing the NFL's ties to the tobacco industry. The retraction request is part of a big push from the NFL to redeem its image, including a long essay responding to the article on its website and ads boasting of the league's efforts to improve player safety, one of which hilariously appears as a banner above the Times story. [NYT]
PHOTO OP
Trump Rallies Manage to Get More Awful
Police say this teenage girl was groped and pepper-sprayed outside a Donald Trump rally in Wisconsin. They're now "looking for two suspects: one for the sexual assault and one for the pepper spray."

MORNING MEME
This passenger managed to get a quick shot with his suicide-bomb-vested hijacker before he was released with all of the other hostages in Cyprus yesterday. Glad to see everyone was in such high spirits. [Gizmodo]
OTHER LOCAL NEWS
Sandwich Hero
This dedicated, if perhaps unhinged, employee of Jimmy Johns — the Florida sandwich chain whose slogan "Freaky Fresh. Freaky Fast" does not make us super hungry — was caught on tape in Jacksonville, Florida, hitching a ride on a moving train while making a delivery. We have a good tip for this delivery boy. [WDBO]
Dummy Tries Idiot Defense
A middle-aged man from Tampa, Florida, who graduated from the University of South Florida in 1995 is trying to dodge his student loans by saying he never actually graduated high school so he shouldn't have been able to go to college in the first place and never should have gotten the loans. Another ringing endorsement for USF. [The Tampa Tribune]
HAPPENING TODAY
Nation Braces for Ted Cruz Trying to Be Funny
Presidential hopeful and noted struggler-with-human-emotion Ted Cruz is set to appear on Jimmy Kimmel Live! tonight. Kimmel is known for asking questions that make his politician guests squirm, and now we will all be able to share in the sensation. [Deadline]
Trump Does Back-to-Back Town Halls
Donald Trump is clearly not too concerned about overexposure. Trump will appear at an MSNBC hosted town-hall event in Green Bay, Wisconsin, tonight, just a day after appearing at a CNN-hosted town-hall event in the same state. [NBC]
New York to Address Angry Cartoon-Character Scourge
The New York City Council is hearing legislation today that would require the many costumed characters now running amok in Times Square to stick to specific zones so people like us can more easily avoid them. The legislation comes after repeated reports of characters attacking tourists, including one incident in which a man in a Cookie Monster costume attacked a 2-year old whose parents wouldn't give him a tip — which is pretty much the saddest thing we've ever heard. [NYT]