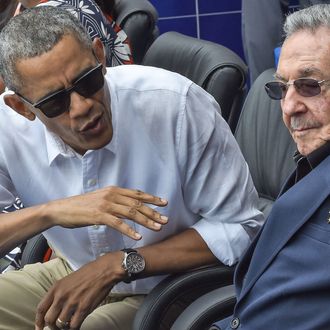 Barack Obama and Raúl Castro at today's baseball game in Havana.
Photo: Nicholas Kamm/AFP/Getty Images
On his trip to Cuba, President Obama took in an exhibition game this afternoon in Havana between the Tampa Bay Rays and the Cuban national team. Obama was seated behind home plate next to Cuban president Raúl Castro, and in an interview with ESPN during the third inning, Obama revealed at least one of their topics of conversation: baseball's much-debated pace of play.
During the interview, Obama spoke about how in an era when everyone is glued to the screens on their cell phones, "there's nothing like going to a ballpark, and everything's slowing down a little bit, and the rhythm of the game gives you a sense of appreciation about all the blessings we have." ESPN broadcaster Karl Ravech brought up the recent efforts by Major League Baseball to speed the game up — like limiting the amount of time between innings — and Obama jumped in and said with a smile that he's all for those rules. (The length of the average game last year, the first under the new rules, fell by six minutes, to 2:56.)
Obama then said that Castro had just been complaining about that earlier in the game. "I was actually explaining to President Castro, because as we were sitting there talking, he said, baseball's just too long." Obama then pointed out that the United States (or at least, its top baseball league) is on it. "I said to him, I said, well, we got Major League Baseball trying to do something about that. You can't be stepping out of that batter's box as often as they used to."