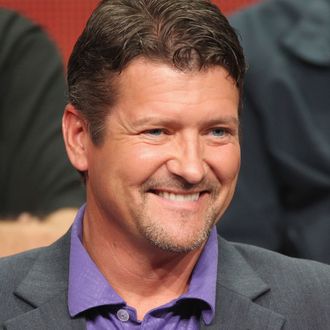 Todd Palin
Photo: Frederick M. Brown/Getty Images
Sarah Palin's husband, Todd Palin, was injured in a "very serious" snowmobile crash Sunday; he is hospitalized in an intensive care unit.
Sarah Palin, who had planned to stump for GOP presidential candidate Donald Trump down in Florida in advance of the big March 15 primaries, had to drop out of a scheduled rally in The Villages, Florida. The Trump campaign canceled the event, scheduled for noon, and issued this statement. 
"Todd Palin was in a bad snow machine accident last night and is currently hospitalized. Governor Palin is returning to Alaska to be with her husband and looks forward to being back on the campaign trail soon. Mr. Trump's thoughts and prayers are with the Palin family at this time."
According to NBC News, Palin has canceled all other appearances, except she did stop by one Trump town hall in Tampa before making her way back to Alaska today. She thanked the attendees for their prayers, and said Todd was "recovering" from a "big wreck" before introducing Trump-campaign hostage Chris Christie. 
Donald Trump, however, may only like the people who don't get in snow-machine accidents. At the rally, while speaking against gun control, he referenced the Paris and San Bernardino shootings, and indicated the attacks happened because no one had been armed. "If Todd Palin were in the room — frankly, if Sarah Palin were in the room," he said to cheers, then added: "Forget about Todd, especially now."
This post has been updated to include Palin and Trump's comments at the Tampa event.