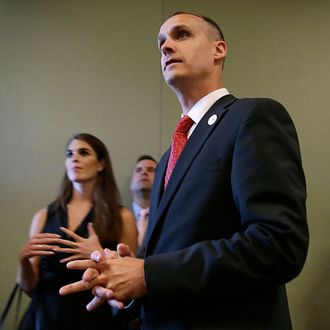 Corey Lewandowski
Photo: Charlie Neibergall/AP
Breitbart reporter Michelle Fields has filed criminal assault charges against Trump campaign manager Corey Lewandowski. Meanwhile, her publication has come to Lewandowski's defense even as a Washington Post reporter insists on the aide's guilt. Now every card-carrying member of the chattering class is pouring over partial video of the event and making jokes about the Zapruder film.
The whole fiasco began Tuesday night, when Fields was walking alongside Trump's entourage as they exited his golf club in Jupiter, Florida. Fields pointed her recording device toward the presidential candidate and asked if he still opposed affirmative action. Before Trump could answer, Fields felt someone grab her by the arm and yank her toward the ground. According to audio of the incident obtained by Politico, Fields was initially uncertain who had assaulted her and relied on Post reporter Ben Terris for confirmation.
Fields: "Holy sh*t."

Terris: "Yea, he just threw you down."

Fields: "I can't believe he just did that, that was so hard. Was that Corey?"

Terris: "Yeah, like, what threat were you?"
According to sources who spoke with the Daily Beast, Lewandowski confessed to "manhandling" Fields in a conversation with Breitbart reporter Matthew Boyle late Tuesday night. Fields shared images of bruises she sustained from the incident over social media.
However, Lewandowski adamantly denied touching Fields, going so far as to call her "delusional" and an "attention seeker."
Then the GOP front-runner himself argued that Fields had probably made the entire thing up. "The Secret Service was surrounding everybody, they said nothing happened, everybody said nothing happened — perhaps she made the story up," Trump told reporters after Thursday's debate. "I think that's what happened."
On Friday, Breitbart released a statement saying that it "stands behind Michelle Fields." But while the statement insisted that the reporter did not "make up the incident," it did not explicitly place blame for the assault on Lewandowski.
Later in the day, Breitbart's Joel Pollak published an agonizing analysis of several video clips documenting the moments leading up to the incident. Noting that Terris had described Fields's assailant as "a man with short-cropped hair and a suit," Pollack argued that Terris could have mistaken Lewandowski for a security guard who fit the same description:
Given the similarity in appearance between Lewandowski and the security official, and given the fact that Lewandowski was walking on the other side of Trump from where Fields was at the time, the possibility of mistaken identity cannot be ruled out. Indeed, given Lewandowski's adamant denials (coupled with statements inappropriately impugning Fields's character), it is the likeliest explanation.
Late Friday afternoon, a new C-SPAN clip emerged that showed Lewandowski reaching his arm toward Fields at one point during the press scrum. The reach comes 9 seconds into the 30-second clip.
Ken Kurson, editor-in-chief of the New York Observer, told Breitbart, "I was five feet away from the alleged incident and didn't see anything. I was literally looking right at Corey when it supposedly happened."
The Observer is owned by Trump's son-in-law, Jared Kushner. Some Breitbart staffers have accused the site of accepting money from Donald Trump in exchange for positive coverage.