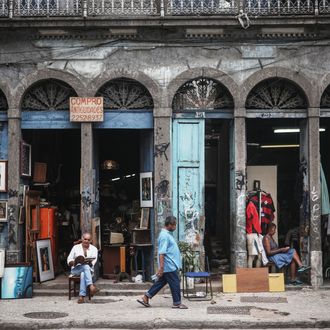 Rio de Janeiro is suffering its worst recession in decades.
Photo: Mario Tama/2016 Getty Images
The Zika virus isn't Brazil's only woe ahead of the 2016 Summer Olympics. The country is also experiencing one of its worst recessions in decades — its currency has lost 24 percent of its value against the U.S. dollar in the past year. Rio de Janeiro's acting governor, Francisco Dornelles, confirmed the country's woes during an interview Wednesday when he called the state's finances "tragic."
"This is the worst situation I've seen in my political career," he told Brazilian newspaper O Globo, according to the Associated Press. He then said it would take a "large effort" for the state to meet its financial obligations and suggested selling state property to raise some much-needed cash.
Although he didn't use specific numbers, Dornelles reportedly blamed the recession on plunging tax income. A large portion of the state's income-tax revenue has traditionally come from the Petrobras oil company, but the company is currently caught up in a corruption probe that's toppled top politicians and executives — the company just reported a quarterly loss of $10.2 billion.
The economic crisis is a major reason Brazil's president, Dilma Rousseff, is on the verge of being impeached — Brazil's lower house will vote on the matter next month, but analysts say it's increasingly likely she'll be ousted. 
Rio is set to host the 2016 Summer Olympic Games in August, but Olympic organizers have announced budget and personnel cuts. The state is also supposed to unveil a subway extension in time for the games — local officials say that plan is still on schedule. But subway or no subway, maybe it's time to reschedule.