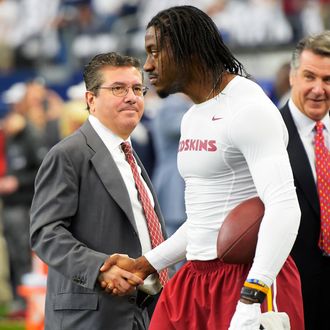 Robert Griffin III shakes hands with Redskins owner Dan Snyder during warm-ups of a game in January.
Photo: John McDonnell/The Washington Post via Getty Images
Robert Griffin III took the NFL by storm in 2012, electrifying fans with both his arm and his running ability and helping revitalize a Redskins franchise that needed it. A year after winning the Heisman Trophy at Baylor, he'd be named the league's offensive rookie of the year, set an NFL rookie record with a 102.4 passer rating, and earn a Pro Bowl selection. But even before his first pro season was up, injuries had already begun to derail him, and his decline would be so sharp that just three years into his pro career, he missed an entire season. On Monay, RG3's time in Washington officially came to an end, as the team released the quarterback just before his contract kicked in.
It's hard to overstate how big Griffin's arrival was for the Redskins. Before the team drafted him, it had missed the playoffs in four straight years and was often in the headlines for reasons that had nothing to do with football. But almost immediately, Griffin reenergized the franchise. He threw for 320 yards in his debut and was named the league's offensive player of the week after his first game. By October, he was doing things like this:
During one stretch in November, he'd throw eight touchdowns in five days, and the Redskins would win their final seven games en route to an NFC East title. But it was also during that time that Griffin suffered the knee injuries that would slow, and possibly end, his career. The first setback came on December 9, when he left and then reentered the game after suffering a mild LCL sprain. (Dr. James Andrews, the team's orthopedic consultant, later said he hadn't examined Griffin after the injury, let alone cleared him to play, as coach Mike Shanahan had told reporters.) Then during the team's playoff game against Seattle came this gruesome injury:
He'd have surgery to repair his ACL and LCL, and although he returned in time for the 2013 opener, he'd never be the same. He struggled to make the transition from a dual-threat quarterback to a more traditional passer, starting 13 games in 2013 and appearing in nine more in 2014. But he missed the entire 2015 season after suffering a concussion in a preseason game, and playing less frequently even after he was cleared to return.
Griffin's release today was not a surprise: The team had until this afternoon to cut him or pay his $16.15 million salary for 2016. And so after such a promising start, the final memory of RG3 in Washington is this note with the words of Mother Teresa, which he left behind after clearing out his locker following the team's elimination in January: