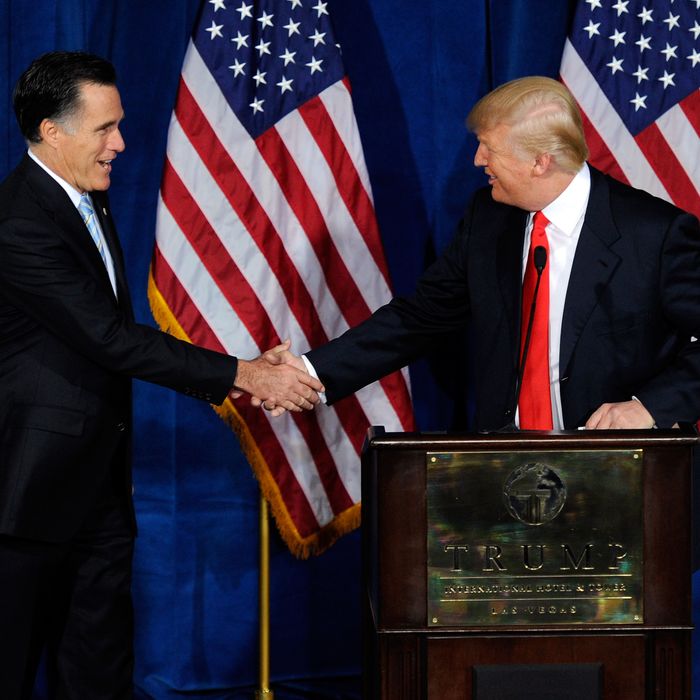 Former allies Mitt Romney and Donald Trump.
Photo: Ethan Miller/2012 Getty Images
Mitt Romney delivered a furious attack Thursday against Donald Trump, shockingly blunt for the ferocity with which the last Republican nominee attacked the moral character of the likely next one. For all its fury, though, Romney's assault was contained within temporal bounds that robbed it of most of its force. While depicting Trump's business career as a fraud, Romney failed to mention or explain why he had solicited and accepted Trump's endorsement four years before. (If his business career was not the credential, then was it Trump's birtherism that attracted Romney?) More importantly and incoherently, Romney — even while assailing Trump as an authoritarian goon — declined to rule out supporting him if he gets the nomination. Instead, Romney merely made the case that a Trump nomination would allow the apparently more-unthinkable prospect of a Hillary Clinton presidency: "A person so untrustworthy and dishonest as Hillary Clinton must not become president. But a Trump nomination enables her victory." Nor did Romney even propose a coherent course of action going forward, other than to endorse all three of the remaining non-Trump candidates. Here, in a nutshell, is the Republican resistance to Donald Trump: full of righteous rage, but confused about how to proceed and unwilling to follow its own analysis through to its conclusion.
The anti-Trump plan going into Super Tuesday called for Marco Rubio — who had recently branded himself the leader of his party's anti-Trump forces — to sweep aside his competitors and narrow the race into a two-man contest. That plan collapsed when Rubio massively underperformed. Now, standing far behind not only Trump but also Ted Cruz in the delegate race, Rubio needs two-thirds of all remaining delegates to capture a majority. It is a hopeless task. And so, while some of his supporters are pressuring other candidates (especially John Kasich) to leave the race, others want to keep them in. If Kasich can win Ohio on March 15, and Rubio his home state of Florida, the non-Trump candidates can combine to hold a majority of delegates and then deny Trump the nomination even if he has a plurality. Above all, they need to settle on one strategy and stick with it. Currently, Republicans find themselves halfway between: They haven't forced Kasich from the race, but they have dogged him with taunts about the pointlessness of his effort.

This is an awful prospect for the party — professional Republicans conspiring to deny the nomination to the popular choice, who would storm out and bring his supporters with him. But Republicans could potentially pull it off if they win enough delegates and muster the willpower to fight Trump even at the expense of ripping their coalition in two. Failing that, Republicans could split from a Trump-led ticket and support a third-party bid, as Republican senator Ben Sasse has threatened to do.
It is not clear that many Republicans have the guts to see through either strategy. Already, even as some of them express strident opposition, others have moved in his direction. The Republican faction embracing Trump most enthusiastically is the supply-siders. Heritage Foundation pseudo-economist and former Wall Street Journal editorial writer Stephen Moore gushes, "For me, Trump potentially represents a big expansion of the Republican Party, a way to bring in those blue-collar Reagan Democrats. That's necessary if the party is going to win again." Lawrence Kudlow, a frequent Moore collaborator, expresses the same idea.
The support from supply-siders makes sense, given Trump's embrace of massive, regressive tax-cutting after initial rhetorical forays into economic populism. It is worth noting as well that the actions of many of these figures can be easily explained by their self-interest. For the Moores and Kudlows, the likely nomination of an outsider without an established network provides a grand opportunity for them to gain a position in his inner circle. For Romney, the prospect of a split convention offers the opportunity for himself to gain the nomination as a stop-Trump fallback candidate.
One can see the gravitational lure of self-interest pulling other forces into place. Fox News, the most important party organ, has everything to lose from a party schism. Hence it is backing away from its golden child, Marco Rubio, as Rubio's path to the nomination grows more prohibitive.
Other Republicans have edged toward Trump to varying degrees. Sometimes their inevitable capitulation must be read between the lines. Danielle Pletka, a defense analyst at the American Enterprise Institute, compares Trump to a fascist dictator but still refuses to commit herself to opposing him:
America has come to a pretty pass, pitting a woman who is anathema to many against a man who reminds us of Benito Mussolini. …

For conservatives, that means finding a candidate able to speak to the anger of voters who rightly feel betrayed by the parties that dominate the body politic. It does not mean compromising our values by opting for Mrs Clinton or Mr Trump.
Pletka's case is that Mussolini's Italy was bad. But so is Clinton's America! Having lived through a country ruled by a Clinton for eight years, this seems to me like an easy choice in comparison to fascism, but not so for Pletka. Like Romney, she finds Trump the worst thing in the world until he wins the nomination, at which point more prosaic partisan considerations will again prevail. What Romney's speech actually shows is that, for all its righteous anger, the anti-Trump backlash is unlikely to survive for long.