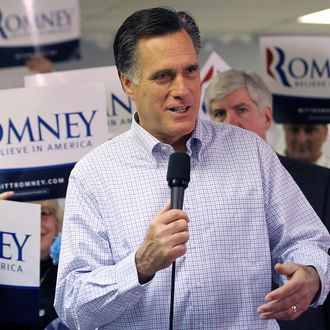 He's impressed with Kasich's lack of failed steak businesses.
Photo: Justin Sullivan/2012 Getty Images
Mitt Romney will continue his effort to make some Republican, who is not Donald Trump, president when he hits the campaign trail with John Kasich on Monday. The GOP's 2o12 presidential nominee will appear with the governor at two events in Ohio, according to NBC News.
While this is the first time Romney has appeared on the 2016 campaign trail, he is not endorsing Kasich. During his anti-Trump speech two weeks ago, Romney said he was backing  "Marco Rubio in Florida, for John Kasich in Ohio, and for Ted Cruz or whichever of the other two contenders that has the best chance of beating Mr. Trump in a given state." Last week he recorded robocalls for Kasich and Marco Rubio ahead of primary contests in their home states on March 15. Romney has yet to work with the Cruz campaign, but the Texas senator doesn't need as much help, and Romney has publicly praised him for winning a handful of states.
On Friday, Rubio's spokesperson urged the senator's Ohio supporters to vote Kasich, and it appears the campaigns are going along with Romney's stated goal of denying Trump a majority of delegates. That would allow for a contested convention, in which anyone could emerge as the GOP nominee … even one Willard Mitt Romney.