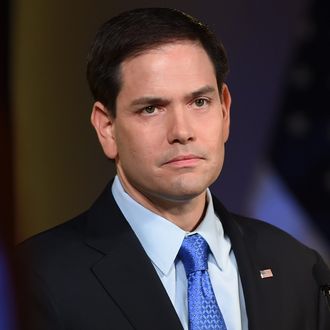 Somehow Marco managed to get stuck in the Mittle.
Photo: Larry Marano/Getty Images
These days, even good news for Marco Rubio is kind of sad. The New York Times reports that Mitt Romney has recorded a robocall for the Rubio campaign that is going out to voters in Michigan, Mississippi, Idaho, and Hawaii, the four states holding GOP contests on Tuesday. Yet, the former Republican presidential nominee could not bring himself to actually endorse Rubio. Romney notes at the beginning and end of the carefully worded message that he's calling on behalf of Rubio's campaign, but he only asks voters to cast their ballots for "a candidate who can defeat Hillary Clinton and who can make us proud" — i.e. anyone who is not Donald Trump. "If we Republicans were to choose Donald Trump as our nominee, I believe that the prospects for a safe and prosperous future would be greatly diminished — and I'm convinced Donald Trump would lose to Hillary Clinton," Romney says.
During his anti-Trump press conference last week, Romney said he'd vote for "Marco Rubio in Florida, for John Kasich in Ohio, and for Ted Cruz or whichever of the other two contenders that has the best chance of beating Mr. Trump in a given state." Rubio does not have the best shot at beating Trump in any of the states voting tomorrow; as New York's Ed Kilgore noted today, "He's unlikely to finish higher than third anywhere, and is in danger of falling short of the 15 percent minimum thresholds for delegates in Michigan, Mississippi, and Idaho." (It's unclear what will happen in the Hawaii caucus.)
It does not appear that Romney recorded calls for Cruz or Kasich, so it's safe to assume he has some kind of preference for Rubio. But he still doesn't like the Florida senator enough to give him his full-throated endorsement. Or perhaps this is just more evidence that Mitt Romney's favorite 2016 GOP candidate is Mitt Romney.
The editorial board of the Florida Sun Sentinel was much clearer about their reasons for not endorsing Rubio — or any of the remaining GOP candidates. "We cannot endorse businessman Donald Trump, hometown Sen. Marco Rubio or Texas Sen. Ted Cruz because they are unqualified to be president," the board wrote Monday. "Ohio Gov. John Kasich is the best of the bunch, but if you measure a candidate by the caliber of his campaign, Kasich's lack of traction and organization make a vote for him count for little."
The Sun Sentinel previously endorsed Jeb Bush, and the editorial board told voters to go ahead and vote for Rubio on March 15 if they think he can unite the GOP. But they reminded voters that he's "done little but run for office," and when he gets there "he doesn't go to work very much. Because Rubio has failed to do his job as a senator, broken the promises he made to Floridians and backed away from his lone signature piece of legislation on immigration, we cannot endorse him for president," the paper said.