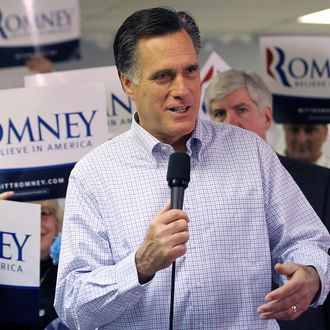 "Or you could choose a write-in candidate. Like, say, Willard Mitt Romney."
Photo: Justin Sullivan/2012 Getty Images
Mitt Romney is clearly a man who wishes he was still in the game, so he's participating in one of this season's hottest political trends: making it clear that you really don't care for the candidate you're endorsing. A few weeks ago, the 2012 GOP presidential nominee said he's endorsing whichever candidate can beat Donald Trump, and he's refused to be any more specific, with awkward results.
First Romney recorded robocalls for Marco Rubio, then he hit the campaign trail with John Kasich. Now just a week later, he's urging voters in Utah and Arizona not to vote for the Ohio governor in a Cruz campaign robocall. "This is a time for Republicans across the spectrum to unite behind Ted. He is the only Republican candidate who can defeat Donald Trump," Romney says in the message, according to Politico. "And at this point, a vote for John Kasich is a vote for Donald Trump."
Romney said last week that he intends to vote for Cruz in Utah's caucuses on Tuesday, but his allies stressed that he wasn't endorsing the Texas senator. On Facebook, Romney explained that he likes Kasich and would have voted for him in Ohio, "but a vote for Governor Kasich in future contests makes it extremely likely that Trumpism would prevail." There was a time when saying you intend to vote for a particular candidate and urging others not to vote for anyone else would be called an endorsement, but that's not how things work in 2016.