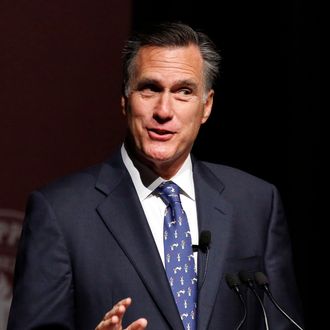 Former GOP presidential candidate Mitt Romney.
Photo: Rogelio V. Solis
Mitt Romney is back in the spotlight, but not because he plans to embark on a third failed presidential campaign — or at least that's what he's saying for now. On Friday morning's Today, Romney told Matt Lauer he was simply doing his civic duty when he made a televised speech imploring Republican voters to go with anyone but the "phony" and "fraud" Donald Trump.
"There's no question I'm going to do everything within the normal political bounds to make sure we don't nominate Donald Trump. I think he would be terribly unfit for office," said Romney. But, he insisted, those efforts would not extend to, say, jumping into the primary at the last minute and becoming the GOP nominee at a brokered convention. "No, no. The people who can save this party are Ted Cruz, Marco Rubio, or John Kasich," said Romney when asked about that scenario. "There are no circumstances I can foresee where that would possibly happen." Pressed to clarify, he said, "I'm not running for president, and I won't run for president." Of course, he's changed his mind about this sort of thing before.