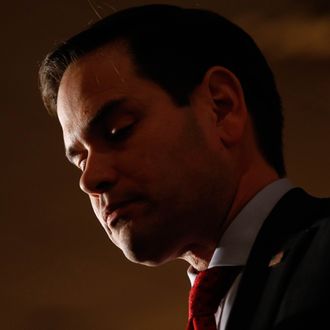 Election returns are no longer a happy surpriise for Marco Rubio and his supporters.
Photo: Jeff Kowalsky/epa/Corbis
The fundamental reason for Marco Rubio's shocking fade in the GOP presidential contest, as Jonathan Chait has explained, was his decision in the heat of the battle against Donald Trump to abandon the very candidate traits that made him viable in the first place. 
But there's a more mechanical factor that seems to be reinforcing this slide: the Rubio campaign's reliance on a formula of winning late-deciders in primaries and caucuses on a wave of hype fed by debate performances, endorsements, and impressive-looking campaign events. 
His reputation as the late-decider favorite was first forged in Iowa, where he had some late buzz, though much of it flowed from the decision of his Establishment rivals to write off the state and focus on New Hampshire. A bad debate performance prior to New Hampshire was almost universally blamed for Rubio's late slide there. But the hype machine really got going in South Carolina and Nevada, where late endorsements (from Senator Tim Scott and Governor Nikki Haley in the former, and from Senator Dean Heller and representatives Cresent Hardy and Mark Amodei in the latter) seemed to be important to his late surge into second place ahead of Ted Cruz, which at the time seemed to put the Texan on the road to Palookaville. 
A lot of Rubio fans figured his much-praised "surprise attack" on Trump in the tenth debate prior to Super Tuesday would boost him to a big night on March 1. He also (in part because of Jeb Bush's post–South Carolina withdrawal from the race) began piling up a lot of endorsements from elected officials all over the country. Everything looked set for another series of second-place finishes ahead of Cruz and perhaps some upset wins as well. Instead, and despite finally registering his first win of the cycle (in Minnesota), Rubio had a dismal evening of it, trailing Cruz in wins, delegates, and — for the first time ever — even in hype. In the 11th candidate debate, Rubio repeated his Trump-pounding routine to the delight of Establishmentarians everywhere, and hoped for a late-decider bonanza. Again, it didn't work, as the Washington Post's O'Keefe, Costa, and Kane noted in a diagnosis of what might ail the campaign of the onetime smart-money favorite for the nomination:
Sensing an opportunity for an upset victory, Marco Rubio spent most of Friday in Kansas, where he picked up a series of high-profile endorsements that he hoped could help thrust him into contention.

Instead, he finished a dis­appointing third in the Saturday caucus in Kansas, repeating the same pattern as in some Super Tuesday states earlier last week: a big last-minute push, notable endorsements and a thud of a finish.
But worse yet for Rubio is what happened to him in Louisiana. The initial returns, composed of early votes, drew a lot of attention because of the theory that Trump's percentage of the vote might massively drop because of the pounding he took from Rubio and Cruz at the 11th candidate debate. There was a massive drop between early and later voters, but it hit Rubio — 21 percent in early votes, 11 percent in the final vote — far more than Trump. 
The Post analysis suggests that Rubio's campaign has been depending on hype rather than the kind of in-state infrastructure that Cruz has built. And indeed, as the contempt poured on old-fashioned retail politics by the Rubio campaign (itself committed to heavy TV ad buys) in Iowa showed, the ground game isn't his natural strength, even in Florida where he could definitely use one right now. Beyond that, it's unclear that any one debate performance or any batch of endorsements can restart the Rubio hype machine and make him the presumed favorite of voters who tune it late. Whatever momentum he ever had toward the nomination has now been lost.