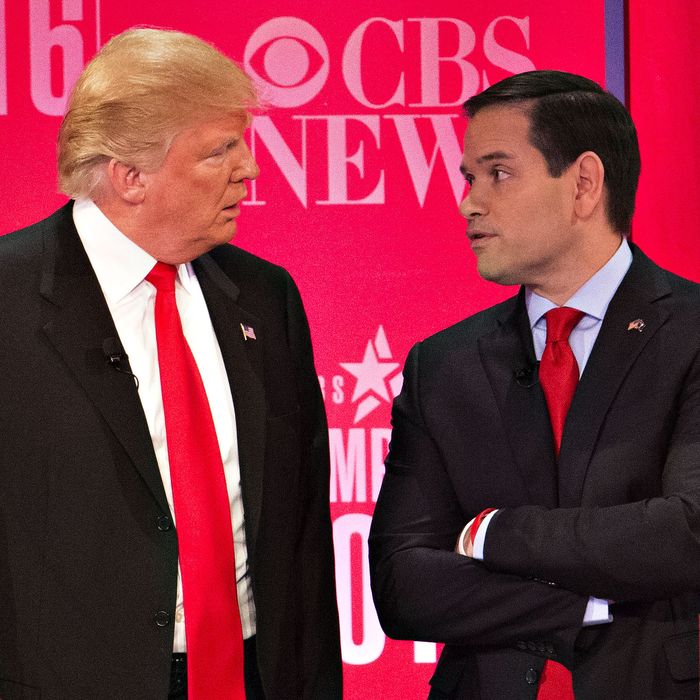 Little Marco will have his revenge.
Photo: Daniel Acker/Bloomberg via Getty Images
Days before he dropped out of the presidential race, Marco Rubio dismissed the idea of teaming up with Ted Cruz to stop Donald Trump, saying, "This is stuff from like House of Cards. It's not real life."
Nearly three weeks later, Rubio hasn't even endorsed Cruz, but he may be doing him a bigger — and more Frank Underwood–esque — favor. The Florida senator has reached out to party leaders in 21 states and territories asking them not to release the 172 delegates he won during his presidential campaign. If the state parties agree, the unprecedented move could deny Trump the 1,237-delegate majority he needs to secure the nomination, forcing a second ballot in which pretty much anyone can be selected.
Rubio aide Alex Burgos confirmed that's the plan, telling NBC News that while the senator is "no longer a candidate," he "wants to give voters a chance to stop Trump."
As highlighted by Trump's nonsensical threats regarding Louisiana's Rubio delegates, when candidates exit the race, their delegates are usually free to support whomever they choose at the convention. However, in a letter to state GOP officials, Rubio says, "It is my desire at this time that the delegates allocated to me by your rules remain bound to vote for me on at least the first nominating ballot at the national convention."
The request has already been granted in at least one state. Alaska Republican Party chairman Peter Goldberg said he initially reallocated Rubio's delegates proportionally to Trump and Cruz, but after receiving the letter, he decided Rubio's five delegates should remain bound to him on the first vote, then be divided between the two other candidates.
Each state gets to decide how its delegates are allocated, and Goldberg told MSNBC that RNC officials in Washington told him other states are consulting their rules regarding Rubio's request. "They said some are trying to figure it out," he said. "Most states are leaning towards giving [Rubio] his delegates."
Rubio's plan decreases Trump's chances of securing the nomination, but it's dependent on many complicated factors. For instance, Alaska's rules say candidates lose their delegates if they "drop out," but Goldberg decided they could still be bound to Rubio since he only "suspended" his campaign — a term candidates use so they can tie up their campaign finances, though it effectively means "drop out."
Other states say delegates are only obliged to vote for candidates who appear on the first convention ballot. Under a rule adopted to reduce Ron Paul's convention visibility in 2012, a candidate's name can only be placed in nomination if he or she won at least eight states — but the RNC could simply decide to change that rule for 2016.
The senator's endgame isn't entirely clear. Even if he manages to keep all 172 of his delegates, he has no control over how they vote after the first ballot, and people in Rubio's network offered the vague hint that he "wants to retain his delegates in order to keep his options open in the coming months," according to the AP. 
There are clues, however, that he's trying to give Cruz a boost. That's what a source told CNN, and Cruz has the best shot at denying Trump the nomination. That may also explain why Rubio has yet to make an endorsement, though he's had some nice things to say about Cruz. In some states, endorsing another candidate would make it harder for Rubio to argue for keeping his delegates, and this scenario could be better than an endorsement. As Hot Air notes, "If Rubio succeeds in keeping, say, 100 delegates away from Trump on the first ballot, that's the equivalent to Cruz winning a very large state."
Trump didn't get a chance to respond to Rubio's plan on Tuesday, as he was busy defending his journalist-manhandling campaign manager and arguing with Anderson Cooper at CNN's town hall (where all three GOP candidates backed away from their pledge to support the eventual nominee). But we predict that this is the beginning of an extremely litigious phase of the GOP nomination process. Trump is already fuming over Louisiana following its established delegate-allotment rules, so we can only imagine how he'll respond to an actual plot to deny him the nomination.
He may want to start by focusing on the validity of Rubio's letter, in which, as Gawker notes, the senator says he's no longer campaigning to be president of some place called the "Untied States."