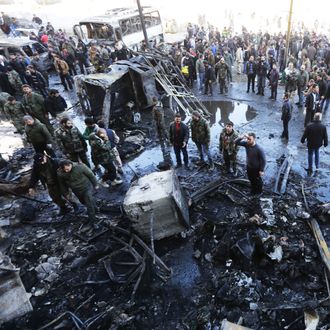 Syrians watch a search and rescue operation in Idlib on September 23, 2014.
Photo: LOUAI BESHARA/AFP/Getty Images
Russia began waging air strikes in Syria last fall, inserting itself into the five-year civil war to bolster the besieged Syrian leader, Bashar al-Assad. That mission was "completed over all," said Russian president Vladimir Putin Monday, as he announced the Kremlin would be greatly scaling back operations and withdrawing troops from Syria as early as Tuesday.
Russia will still keep some sort of military presence in Syria, reports The Guardian, at two locations: an air base and a naval port, both along the Syrian coast. But it's unclear what that entails, or how much Putin really means it. The Kremlin leader did say Russia wouldn't stop its fight against terrorism.
Russia's move — which apparently came as something of a surprise to pretty much everyone, including the United States — arrived as peace talks between opposition forces and Assad's government opened in Geneva, after months of false starts. A cease-fire agreement that went into effect at the end of February has also mostly (if imperfectly) held, at least enough to allow for increased humanitarian aid deliveries in vulnerable Syrian communities. Putin, being Putin, couldn't help but take some credit for the latest round of talks. "The effective work of our military created the conditions for the start of the peace process," Putin said this afternoon.
The Russian leader reportedly dropped the news to his buddy Assad over the phone Monday, who apparently agreed with Russia's decision; his acquiescence isn't so surprising considering Russia helped save his job. The Syrian leader's precarious hold on power reversed in recent months, as government forces, backed by Russia's military, went on the offensive. Now Assad's regime has backed away from collapse and consolidated some of his power by recouping territory held by opposition forces, including groups supported by the U.S. and its Western allies.
Russia's involvement in Syria had long frustrated the United States and its allies, all of whom really aren't too keen to see Assad stay in power. Russia had also insisted it was targeting terrorists but ended up bombing some of the areas held by opposition forces supported by the United States, further complicating efforts to defeat the really bad guys — ISIS — and put an end to a civil war that has killed about 250,000 and sent millions more fleeing.