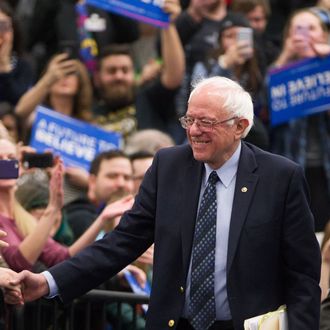 Sanders campaigned hard in Michigan.
Photo: GEOFF ROBINS/Getty Images
Bernie Sanders gained a surprise victory over Hillary Clinton in Michigan Tuesday night, leading to what polling site Decision Desk called the "biggest upset in 30 years." (The site was forced to retract its early declaration of a Clinton victory, for which its founder sincerely apologized.) Sanders polled a few percentage points ahead of Clinton from the outset, and he managed to maintain his lead. With 92 percent of precincts reporting, Sanders polled at 50 percent while Clinton ground to a halt at 48 percent.
After Tuesday's results, Clinton has accumulated 1,214 delegates and Sanders 566, including superdelegates; Democrats need 2,383 delegates to win the nomination. The Sanders campaign, of course, was thrilled.
Michigan's WNEM reported a ballot shortage in Genesee County in Flint due to "so many first-time voters between Bernie Sanders and Donald Trump." The shortage caused massive delays; in some precincts, voters waited in two-hour lines to cast their ballots. The Sanders campaign caught wind of the delay, tweeting that supporters should stay in line to "make their voices heard." Needless to say, they listened.